Tags:

adult beverages, alcohol, anniversary, apple, apricot, blackberry, champagne, cocktails, fig, peach, pear, raspberry, ripe strawberry, strawberry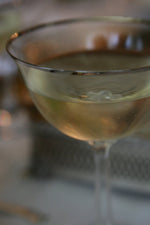 As part of our 100th anniversary celebration, we've crafted a cocktail that you can customize with your favorite Bickford Flavor! For each serving, you'll need: 1.5 oz Vodka 1 cup crushed ice Water-based Bickford flavor of choice (suggested flavors: Ripe Strawberry, Pear, Apple, Peach, Apricot, Blackberry, Raspberry, Fig) 3 oz Champagne Lemon peel, strawberry, or fruit of choice for garnish, if desired. Instructions: Chill martini classes in a freezer or by filling glasses with ice to chill while you prepare the cocktail. Dump the ice before adding the cocktail. Fill a cocktail shaker with 1 cup crushed ice. Add vodka...
---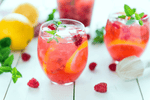 Ingredients: 4 cups cold water 1 can (11.5 oz) berry flavored non-frozen concentrate 3 tbsp Bickford Lemon Flavor 2 tsp Bickford Blackberry or Raspberry Flavor ¼ to ½ cup granulated sugar ice cubes as desired lemon slices (optional)   Directions: Combine water, berry concentrate, Bickford Flavors and sugar in a large pitcher and stir well.  Serve over ice, garnish with lemon slices.
---
Tags:

almond, anise, blackberry, candy, cherry, chocolate, cinnamon, cream centers, gift, hazelut, lemon, maple, mint, orange, pecan, powdered sugar, pure vanilla, raspberry, rum
Like cake pops, these chocolate covered candy creams are bite size and can pack incredible flavor when the right flavorings are used. For these candy creams, you can choose from a variety of our all-natural, premium flavorings. View this delicious chocolate covered cream candy recipe. Chocolate Covered Cream Candy Recipe Ingredients: Cream Centers 8 oz cream cheese 2 lbs powdered sugar 1-3 tsp. variety of Bickford Flavors (ex. mint, pure vanilla, almond, anise, rum, cherry, orange, lemon) Food color of your choice   Chocolate for Coating 2-12 oz. bags of milk chocolate chips Directions: Soften cream cheese in microwave (approx....