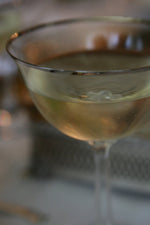 As part of our 100th anniversary celebration, we've crafted a cocktail that you can customize with your favorite Bickford Flavor!
For each serving, you'll need:
1.5 oz Vodka
1 cup crushed ice
Water-based Bickford flavor of choice (suggested flavors: Ripe Strawberry, Pear, Apple, Peach, Apricot, Blackberry, Raspberry, Fig)
3 oz Champagne
Lemon peel, strawberry, or fruit of choice for garnish, if desired.
Instructions:
Chill martini classes in a freezer or by filling glasses with ice to chill while you prepare the cocktail. Dump the ice before adding the cocktail.
Fill a cocktail shaker with 1 cup crushed ice. Add vodka and a drop or 2 of Bickford Flavor of choice and shake well. Add more flavor, to taste.
Strain and pour into chilled (but empty) martini glass and top with Champagne.
Garnish with strawberry or fruit of choice.
Photo by Quinn.Anya on Flickr: https://www.flickr.com/photos/quinnanya/2488051393