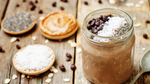 Our healthy overnight oats recipe makes for a simple, healthy breakfast that's easy to prepare and delicious to eat. With oats and peanut butter high in protein and fiber, this overnight oats recipe (vegan) can help keep you full of energy and your hunger satisfied.

This chocolate overnight oats recipe can be enjoyed warm or cold and prepared days in advance with minimal prep. Additionally, you can top this tasty breakfast with a variety of nutritious ingredients that benefit your health.

Why this healthy overnight oats recipe?
This chocolate peanut butter overnight oats recipe is so flexible and easy to prepare that your whole family will enjoy putting their own toppings and flavor combinations together to create their one-of-a-kind breakfast treat.
Just mix everything together in a jar and let it rest in your fridge until you're ready to enjoy.
Having a delicious, go-to recipe like this can make your mornings run smoother while also providing your family with a healthy breakfast option.
Go ahead and experiment and have fun knowing you're starting the day off right using this overnight oats recipe that can be made vegan.
Without further ado, here's how to make this healthy overnight oats recipe with delicious peanut butter and chocolate:
Ingredients
1/2 cup gluten-free rolled oats
1 cup non-dairy milk (or dairy milk if you're not vegan)
1/4 cup peanut butter (smooth or chunky...whichever you prefer)
1 tbls pure cocoa powder
1 tbls chia seeds or ground flaxmeal
Pinch of salt
1 tbls maple syrup
1 tbls cacao nibs (optional)

Instructions
In a jar or bowl that has a fitted lid, combine the oats, non-dairy milk, salt, chia seeds, pure cocoa powder, maple syrup as well as the Bickford Peanut Butter Flavor & Vanilla Extract.

Top with the dollop of your favorite peanut butter and a sprinkle of cacao nips. Top with lid and refrigerate overnight (for at least 4 hours).

When ready to eat, use additional non-dairy milk to loosen the overnight oats to your preferred texture and enjoy!
Bickford's Premium, All-Natural Flavors in this Recipe
All-Natural Peanut Butter Flavoring

Finding ways to creatively use Bickford's peanut butter flavoring is as easy as tapping
into your culinary creativity.

From baked goods to smoothies to breakfast dishes and more, this all-natural flavoring is the ideal way to add depth to your recipes while also creating a velvety, nutty goodness to anything you whip up.
Why use peanut butter flavoring instead of traditional peanut butter? Peanut butter flavoring replaces the sometimes inconvenient or hard to use/mix ingredient of traditional peanut butter and delivers more flavor.
You see, the beauty of our peanut butter flavoring is that it can lean both sweet (delicious cookies and cakes) and savory (satiating stir-fry). Outside of this peanut butter overnight oats recipe, you can try pairing it with chocolate for a peanut butter cup-inspired dessert or using it to make a tasty sauce for your burgers. Because, when it comes to satisfying your peanut cravings, very few ingredients are as versatile as this peanut butter flavoring.

So, if you're hankering for something savory or feel the need to appease your sweet tooth, our peanut butter flavoring is the perfect way to go. Bickford's peanut butter flavoring can be a delicious addition to so many dishes and recipes that it can be hard to pick a favorite.

All-Natural Pure Vanilla Extract

Some recipes just yearn for the subtle flavors that only Bickford's pure vanilla extract can offer. From homemade cake glazes to delicate panna cottas, French madeleines to decadent buttercreams, our pure vanilla extract is the best way to enhance your favorite recipes.

That's why Bickford's pure vanilla extract has become such a popular extract and key ingredient in countless desserts. Outside of this chocolate overnight oats recipe, finding ways to incorporate this flavor staple into your go-to recipes is easier than you think - delicious homemade chocolate chip cookies to mouthwatering cake frostings to name a few.

Did we mention that using this high quality, all-natural extract in your homemade ice creams and fluffy baked goods genuinely makes a world of difference?

Nothing beats quality pure vanilla extract, so make sure your pantry is stocked with this essential extract and use it as often as possible to let this classic flavor truly shine.
If You Buy Bickford's Peanut Butter Flavor, You Could Also Use It In:
Best Ever Peanut Butter Pie
This decadent pie will delight everyone's taste buds and fly off the plate. That's because the peanut butter flavoring and chocolate combination simply cannot lose.

Gluten-Free Peanut Butter Cookie Recipe (with Strawberry Jelly)
Taking a fan favorite like peanut butter and jelly and putting it into cookie form is a surefire home run! Make a batch and watch the crowd go wild.


If You Buy Bickford's Pure Vanilla Extract, You Could Also Use It In:
Baked Granola Recipe
This baked granola recipe is the perfect topping for ice creams and yogurt creations. Toasted nuts, oats, dried fruit and pure vanilla extract come together to create the perfect mix.

All-Natural Vanilla Coffee Creamer
With just a few ingredients you can whip up a batch of your very own homemade pure vanilla extract coffee creamer. It'll leave you with a caffeinated kick that's completely customized to your taste buds!

Caramel Corn Recipe
This caramel corn recipe is great for any occasion. The peanuts give it a deluxe caramel corn texture and the pure vanilla extract takes the flavor experience over the top.

Raspberry Cheesecake Muffin Recipe
Easy and dramatic is the perfect way to create the ideal party dessert. This raspberry cheesecake recipe will wow all your friends, from the burst of fruit to the deep vanilla undertones.

Chocolate Dipped Macaroon Recipe
With this cookie staying chewy on the inside and slightly crisp on the outside, you just can't go wrong with a classic coconut macaroon dipped in chocolate.


Additional Breakfast Recipes You May Enjoy
Bickford's Gluten Free Breakfast Pumpkin Cookie Recipe
These delicate pecan craisin gluten-free pumpkin cookies provide the perfect hint of vanilla, making them an ideal breakfast bar to start your day off right.

Baked Oatmeal Casserole Recipe
Finding ways to make your oatmeal stand out is no small task. This recipe combines fresh fruits and decadent flavors, like chocolate and cinnamon, to elevate your oatmeal to another level.

Cinnamon French Toast
Your simple French toast recipe will never be the same once you include the tantalizing flavors of pure vanilla and maple to the mix. Just step back and watch your family enjoy this spin on a breakfast classic.

Apple Cinnamon Slow Cooker Oatmeal
Slow cook your oatmeal to infuse an entirely new depth of flavor. This approach takes those oats and adds a kiss of apple cinnamon that'll have you wondering how you ever started your day any other way.