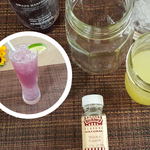 Just as keto dishes don't have to sacrifice flavor to remain true to the lifestyle, beverages don't have to lack in taste and experience, either.
Instead of keto alcohol cocktails, were you looking for keto mocktails instead?
When we develop keto cocktail recipes using our premium keto flavors - like our true-to-taste tequila flavoring - it's completely up to you whether to add alcohol or a refreshing sparkling beverage instead.

Why this fruity spritzer recipe?

As one of the most flavorful keto-friendly cocktails you'll find, this fruity spritzer is perfect for just about any occasion.
It can be made into a cocktail or mocktail.
It's an inexpensive and easy drink to make.
By adding your favorite sparkling beverage to this spritzer cocktail or mocktail, you can't go wrong.
This drink is not loaded down with sugar, allowing you to appreciate the flavor of the spirit.
Always remember: With simple ingredients and, above all, the best flavorings, you can make your own keto-friendly cocktails or mocktails that will certainly be the toast of the party.

If you love fruity drinks and the taste of tequila, dive right into this keto mocktail recipe.

Bickford's Premium, All-Natural Flavors in this Recipe
The beauty of Bickford's tequila flavoring is that its all-natural agave flavor brings a uniquely earthy, semi-sweet element to so many concepts. With easy-to-make tequila drinks like this tasty spritzer, you can whip them up whenever you have guests - perfect year-round.

Why use tequila flavoring instead of traditional tequila? For the perfect mocktail, this tequila flavoring delivers a taste you won't find in any other distilled spirit.

Whether you're a novice with tequila or spritzers or experienced with this specific liquor and type of drink, this recipe can be an all new experience that truly displays tequila's versatility.

Don't forget, there are tequila drink recipes that are sweet, savory and even ones that go perfectly after an amazing meal. But this particular option is so simple you'll find yourself making it time and time again because you can't get away from the exceptional flavor profile.

Whether relaxing by the pool, clinking glasses at a BBQ, or simply making yourself a batch on a lazy Saturday afternoon, you deserve this mocktail in your life. With the subtle assertiveness of Bickford's tequila flavoring, this spirit really shines in this drink.

Without further ado, here's how to make this keto friendly mocktail fruity spritzer recipe with our delicious tequila flavoring.
Bickford's Fruity Keto-Friendly Cocktail
Ingredients:
1/4 cup fresh lime juice
20 oz of your favorite fruity sugar-free or sugar-less sparkling beverage
2 tablespoons of Bickford Flavors Tequila 
Ice
Directions:
Combine all of the ingredients in your favorite tall glass and stir to combine. Garnish with a wedge of lime. 
Other Flavors to Use in this Recipe to Add a Unique Twist
While this fruity keto spritzer mocktail/cocktail is fabulous, there are a variety of other ways to enjoy your drink while avoiding alcohol and sugars.

Bickford's rum flavoring is also an incredibly versatile option for this spritzer mocktail. Rum tends to be the perfect base spirit, and this flavoring would make sure that the end result is never boring.


Additional Drink Recipes You May Enjoy
Here are some other delicious drink recipes that also incorporate tequila and other spirit flavors:
Vegan Alcoholic Drink Recipe: Kahlua Colada
This wonderful vegan cocktail is an exceptional choice for both small and large
gatherings. It works as a summer drink for pool parties and even as shots to spice up your weekly game night. And by spiking the traditional Pina Colada with the flavor of Kahlua, you add a touch of the unexpected.

Chocolate Cheesecake Pudding Shots
This decadent dessert drink will help deliver the fun on any evening of entertainment. These little pudding shots offer a classy spin on a boozy dessert. They look like a little bit of pudding, but the cheesecake flavor and unassuming alcohol take the experience right over the top.

Frozen Fruit Slush Recipe
This frozen fruit slush is a lovely and refreshing summertime treat. It's a citrus-based slushie made with fresh fruit, peach extract and lemon-lime soda. Just mix and freeze and watch the smiles take over the day!