The Industry's Leading Ice Cream Flavoring Provider
Sweet treat trends come and go (does anyone remember baked Alaska?). But make no mistake—there's one dessert that never leaves consumers' hearts: ice cream.

It's hard to think of a food so ubiquitous and beloved. And it's no secret that the marketplace is stacked with ice cream brands and products.
How will consumers notice your product? How will the creamy ice cream treat you bring to market make them think, "this is irresistible!"


Textures, add-ins, and blends are so in, but we're here to tell you to keep it simple. Put a big focus on your flavor(s) and don't settle for anything less than all-natural, premium extract flavors for your ice cream.
With over 200 premium extracts and flavors, Bickford has been flavoring America's favorite frozen treat for over a century. What can you expect from our ice cream flavor concentrates?
Our ice cream extracts are:
Highly heat stable
Never suspend in alcohol
Free of additional salt and sugar
Certified Kosher
Formulated to be stronger and more concentrated than other flavoring methods
Our suspensions never add any additional flavor. Nor do they evaporate or bake out as rapidly when exposed to heat, as alcohol-based extracts tend to.
With a water- or oil-soluble base suspension, flavors taste better and smell better—giving your ice cream application a stronger concentrate that maintains its character longer.
Read about the other wholesale industries we serve.
Ice Cream Extracts vs. Flavors: What's the Difference?
Looking for the flavoring option that's best for your products? Bickford's offerings can be divided into two major categories: flavors and extracts.
Both use the highest-quality sources and are free of any added salt, sugar, or filler ingredients. The difference is that extracts are formulated to be eight or more times stronger than our flavors, and are usually more common in products like hard tack candy, lollipops, and mints.
The best choice depends on your end goal. Typically, we find that ice cream manufacturers go with an ice cream flavor over an extract. Flavors are good at maintaining the character of the flavor profile and giving ice cream applications subtle, refined flavor notes.

For a more intense pop of flavor, manufacturers occasionally select an extract and use less product in the ice cream mix.

Usually, it just takes a bit of experimentation to achieve that flavor consistency you're after. From where we're standing, you can't go wrong either way!

Learn more about our products' nutritional information.
Trust The Ice Cream Flavor Creation Experts
It takes creativity to win out in the marketplace—especially with such a competitive product like ice cream. When you're in the innovation stage, it's important to remember that to set the standard for amazing flavor, you must utilize the highest quality flavors or extracts.
Bickford Flavors can create the ice cream flavor your taste buds have been dreaming of…perhaps one that doesn't even exist yet!
By partnering with an established and inventive company, you become privy to the wealth and experience that comes with over a century in the ice cream flavoring industry. Even if you're hesitant to make a commitment to your inventive idea, our flavor chemists can create a flavor concept and send you a sample so you can provide feedback.
With Bickford Flavors, you can also meet market demands and specific labeling needs—such as certified kosher, low-protein, keto, gluten-free, and more.
Read about how we help customers create custom flavors.
Best Flavoring Extracts for Ice Cream Manufacturers
With all the flavor choices out there (we have over 200), how can you decide what to offer?

According to recent findings from the International Dairy Foods Association1, classic choices like Chocolate, Cookies 'n' cream, Vanilla and Strawberry were the most popular among consumers. But respondents expressed a taste for innovation, too—75% said they preferred to choose from a wide variety of flavors, and 55% like to try innovative or exotic flavors.

Learn more about the latest data on flavor preferences.

Essentially, the numbers say you have to give your customers the best of both worlds—the classics they love and the new favorites they weren't expecting!

Our extensive catalog of flavors and extracts for ice cream allows makers to customize their flavor offerings and expand their product options with singular high-quality flavors or a stunning mix of premium flavors.
Here are some familiar and unique flavor ideas:
Mint Extract for Ice Cream
There's nothing quite like the cool, sweet bite of freshly churned mint ice cream to tickle the senses. Decadent and refreshing, this extract is one of the most satisfying flavors to add to a creamy, dreamy treat—whether you're adding chunks of chocolate, crumbled graham crackers, or just enjoying it on its own!

Buy mint extract
Peppermint Extract for Ice Cream
There's just something about our peppermint extract that makes it feel like the holidays all year round! The cool, zingy profile of our peppermint extract is an ideal way to freshen up your favorite ice cream recipe and usher in any celebration.
Peach Extract for Ice Cream
This delicate peach flavoring can add a splash of summer to any ice cream recipe. Whether you're a peach super fan or just looking for a refreshing new twist to your next ice cream creation, our peach extract is bursting with authentic, juicy flavor.

Bourbon Extract for Ice Cream
Believe it or not, bourbon can be used for more than just drinking! The smooth, sweet, smokey flavor of this timeless spirit can produce a truly indulgent ice cream experience and create a depth of flavor that will keep your guests coming back for seconds, thirds, and even fourths!
Chocolate Extract for Ice Cream
It's no secret that chocolate in any form tastes simply divine, but there's just something about a true-to-source chocolate ice cream that cannot be beat. Our rich, luscious chocolate extract is the perfect way to take your chocolate ice cream recipe to new heights.

Buy chocolate extract
Coffee Extract for Ice Cream
Believe it or not, coffee isn't just a pleasant way to end a meal—it's also a fantastic way to take your ice cream creation to another level! Bickford's endlessly versatile coffee extract is a great way for consumers to get their coffee fix without having to brew a pot and works in everything from mocha ice cream recipes to espresso gelato.

Black Raspberry Flavoring for Ice Cream
Our black raspberry extract is truly unique—an intensely delicious flavor that falls between a raspberry and a blackberry. This tart, tangy flavor can transform your ice cream creation into a genuine taste experience and make you wonder why you waited so long to add this extract to your repertoire!
Butter Pecan Flavoring for Ice Cream
Loaded with real roasted pecan flavor, Bickford's butter pecan flavoring can turn your next ice cream recipe into an irresistibly creamy, intensely buttery, and decadently delicious frozen treat. Just be careful…an ice cream this dreamy can become quite addictive!

Buy butter pecan flavor
Cream Cheese Flavoring for Ice Cream
Velvety, buttery, and with just a hint of tang, our cream cheese flavoring is the key ingredient you've been missing in your favorite ice cream recipe. From cheesecake-based flavors to those highlighting dark chocolate or honey, a range of flavors will benefit from this delicious addition.

Buy cream cheese flavor
Cherry Flavoring for Ice Cream
The sweet and tart flavor of cherries can add a bright kick to any ice cream recipe and offer a clean, crisp taste experience. In addition to classic cherry, Bickford offers mouthwatering options like black cherry, wild cherry, and cherry lime.
Cookies and Cream Flavoring for Ice Cream
Sweet and creamy, our cookies and cream flavoring is a marvelous way to elevate your ice cream game. With delicate notes of chocolate cookies and smooth vanilla, this fabulous flavor provides immersive dessert bliss.
Check out our guide to ice cream and gelato flavors you won't find at the grocery store.

Delicious Ice Cream Flavor Pairings
The only thing better than a delectable single flavor is a delicious flavor combination! A good flavor pairing creates a taste sensation greater than the sum of its parts.

Here are a few flavor pairing ideas:
Learn more about our favorite ice cream flavor pairings.
Ice Cream Recipes That Work
If you're new to the ice cream game and are looking for recipe suggestions, Bickford has you covered there, too! Whether you follow these to the letter or use them to inspire your future greatest hits, check out the following recipes:
Vegan Bourbon Pecan "Nice" Cream
Cotton Candy Ice Cream
Vegan Strawberry Cheesecake Ice Cream
Gluten Free (Heart Shaped!) Ice Cream Sandwiches
Flavors and Extracts Across The Dairy Dessert Spectrum
We haven't forgotten about sorbets and smoothies, either!
Our ice cream flavoring extracts are ideal for, but not limited to, a whole range of products including:
Ice cream
Gelato
Frozen yogurt
Smoothies
Sherbet
Sorbet
Custard
Bickford Flavors are great for complimentary sauces as well!
Do you have another frozen dessert application you'd like to make? We can recommend a type of flavor that would work well for your end product.
Find out more about our flavoring options for dairy products of all kinds.
Become a Bickford Wholesale Partner Today
Out of all the ice cream flavoring companies to choose from—why us? There are many reasons to work with Bickford, but at the end of the day we're both long-time flavor makers and champions for amazing tasting food and beverage.
Our extensive collection of flavors and extracts are formulated to be stronger and more versatile than other flavoring methods to give your ice cream product the exact flavor consistency you desire.
When you partner with Bickford and become a part of our wholesale program, you benefit from:
Preferred pricing
No minimum order requirement after one gallon
Faster than normal turnaround times, including same day processing and shipping on most orders
For custom flavors, we work to flavor match within a week. Once you approve the flavor, we process the order and ship the same business day (if the order is received before 12:00 p.m. EST).
Discover our wholesale and sample program.
Download Business Verification Form
Resources:
1International Dairy Foods Association. Ice Cream & Frozen Novelty Trends Survey - June 2022. Accessed February 14, 2023. https://www.idfa.org/resources/ice-cream-frozen-novelty-trends-survey-june-2022/
Stay Up to Date On The Latest Flavor Trends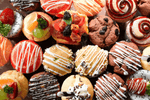 Is your business keeping up with the latest baking trends? Visit the Bickford Flavors website for what's trending today.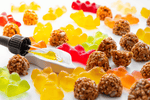 The ever-growing CBD market moves fast. Bickford's industry-leading flavors can help you stay ahead of the competition.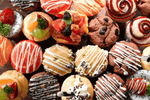 Is your business keeping up with the latest baking trends? Visit the Bickford Flavors website for what's trending today.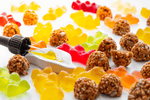 The ever-growing CBD market moves fast. Bickford's industry-leading flavors can help you stay ahead of the competition.