Flavor Extracts for Beverages
The wide world of beverages has something for every kind of consumer—from kids craving an after-school soft drink to adults indulging in a weekend cocktail.
To stand out from the crowd, quality flavors matter—Bickford offers a wide variety of all-natural wholesale beverage flavorings and extracts for chefs, home brewers, manufacturers, retailers, distributors, caterers, and other food service professionals.
Whether you're looking to freshen up your existing roster of beer varieties, or want to develop a knockout flavor combination for that new seltzer, our flavors can help you achieve innovation and superior, refreshing taste.
Properties of Bickford's Flavor Extracts for Beverages
We offer more than 100 all-natural, certified Kosher flavor extracts that are ready to take your beverages to the next level. And with Bickford, you know what you're getting—we're upfront about all our nutritional information.
Our flavor extracts for beverage development are:
Highly heat stable
Never suspend in alcohol, with the exception of Pure Vanilla, which contains 35% alcohol by volume
Suspended in a water or oil base
Stronger and more concentrated than other flavoring methods
Free of additional salt and sugar
Our flavors are suspended in a water soluble base—a more neutral, superior carrier to alcohol. Our suspensions transmit no extra flavor and do not evaporate as rapidly when exposed to heat like traditional alcohol-based extracts do.
Read about the perks of our wholesale program. 
Alcoholic Beverage Flavorings
Whether it's fermentation, distillation, or aging, making alcoholic beverages can be complicated. Whether you're looking for the perfect natural wine flavoring or a fresh cocktail or liqueur extract, Bickford's flavors deliver results
.By using beer flavoring extracts, natural wine flavoring and other naturally-sourced extracts for cocktail or liqueur product development, the taste of your application will stand out from the abundance of competing beverage products.
Our extracts can be added to a whole range of alcoholic applications, including: 
Cocktails
Like any mixologist can tell you, a fun, festive cocktail is the perfect vehicle for flavor experimentation! Fruit and cocktails go hand in hand, and options like coconut and lime are classics. But creative flavors like cotton candy and birthday cake can really wow your cocktail consumers.

Get the recipe for our cotton candy-tini.
Wine
The quality of a wine, above all, depends on the quality and type of grape. But adding flavors and extracts can add a new spin on your favorite vintage—fruit flavors like strawberry and blueberry work well, depending on the type of wine.

Check out our guide to wine and food pairings.
Craft Beer & Cider
Today's beer drinker is well-educated, discerning, and knows which flavor profiles are best for them. A mango flavored IPA is a treat for hoppy beer drinkers, while a cinnamon or toasted marshmallow porter might be the next hit among dark beer fans.
Read about pairing fruit flavors and beer.
Our flavors are also perfect for:
Hard Seltzers
Liqueurs
Distilled Spirits
TTB-Approved Flavors for Your Alcoholic Beverage Development
By law, all flavors used in alcoholic beverages must be approved by the Alcohol and Tobacco Tax and Trade Bureau (TTB). We take labeling laws seriously—when you purchase our flavors, we can provide complete documentation, including Flavor Ingredient Data (FID) sheets.
Need a TTB-approved flavor for your beer, cider, wine, or spirit beverage formulation? Our TTB-approved flavor extracts for beverages are certified Kosher, all-natural, and formulated to be stronger and more versatile than other flavors on the market.
Read more about Bickford's TTB-Approved Flavors
Non-Alcoholic Beverage Flavors
Don't count out the non-alcoholic beverage market. From sodas and shakes to hot coffees and teas, there's always a drink your customers are craving.
Our non-alcoholic flavor extracts for beverages are ideal for:
Coffee is a must to start the day for so many. But the right flavorings can make your customers' morning cup truly transcendent.
Some of our favorite coffee flavors include:
Learn more about our favorite coffee flavorings.
Tea comes in a variety of flavor profiles, and is a wonderful canvas for creative flavors. For spiced or chai tea, warm spice flavors like cinnamon, cinnamon spice, and clove lend a sense of comfort. For a lighter flavor, fruits like lemon, raspberry, and apricot are afternoon tea perfection.

Learn more about using Bickford's coffee and tea flavors and extracts.
Juices
Almost nobody doesn't like a refreshing, full-flavored glass of juice. But the flavor source really matters—extracts with a lot of filler ingredients will have nowhere to hide. Flavors like mixed berry, apple, and grape are classic choices, but juices are great for experimentation.

Check out our recipe for frozen fruit slush.
Non-alcoholic Cocktails
The non-alcoholic cocktail, or mocktail, is trending thanks to many who want a healthier lifestyle but still want to unwind with a delicious cocktail!
To get you started with some inspiration, check out our recipes for non-alcoholic strawberry pink lemonade milkshakes or watermelon mojitos.
Our products also go great with other beverages like:
Sports/energy drinks
Beverage syrups
Alcohol-free beer
CBD-Infused Beverage Flavors
CBD, or cannabidiol, is one of the market's most dynamic wellness trends—and it's made its way into the beverage space, too. CBD is a non-psychoactive compound found in hemp that emparts benefits like lower anxiety levels and better sleep.
Popular CBD-Infused beverages include: 
Seltzers and sparkling water
Teas
Mocktails
Powdered drink mixes
Our flavor development experts have worked with multiple customers in the CBD field, and have helped them develop products that earn rave reviews from their customers.

Learn more about using Bickford's industry leading flavors in your CBD products.
Serve the Health-Conscious Beverage Consumer
In addition to refreshing, premium taste, your consumers desire a drink that offers health benefits and less sugar. All our flavors can be applied to regular, reduced-sugar, and sugar-free beverages.
With Bickford Flavors, you can be certain your beverage application never includes unhealthy, imitation flavors and extracts.
Our flavors are never formulated with any added sugar or salt and are always certified kosher, low-protein, low-carbohydrate, and gluten-free.
Looking to serve your low-carb customers? Learn about using keto-friendly flavors.
Create a New Taste Sensation
A parched mouth never longs for a dull-tasting beverage. Consumers crave a refreshing and—above all—great tasting drink that will completely satisfy their thirst.
Creating a breakthrough beverage or reviving an existing product all comes down to flavor, and your beverage formulation commands carefully curated flavors that are made from high-quality, all-natural flavor sources.
Give Bickford's flavor wheel a spin for some flavor pairing inspiration.
As your product development gets under way, be sure to first browse our flavor extracts for beverages page, where you can find beer flavoring extracts, natural wine flavorings, and seemingly endless other options for your beverage application.
Bickford is America's Beverage Flavor Manufacturer
Looking for a better beverage flavoring company? A strong commitment to customer service and the best flavors on the market are why we've been around for over 100 years.
Through our beverage flavor wholesale program, you will receive preferred pricing, benefit from no minimum order requirement after one gallon, and faster than normal shipping.
Need a custom flavor? We can help with that, too.
Learn more about our beverage flavors wholesale program, or get started today by downloading our wholesale business verification form.
Beverage Flavor Development FAQ
Only alcoholic beverages need to be TTB approved. If you're a beer or distilled spirits maker or manufacturer, you are required to file a permit to begin producing a new flavored beverage. Read more about TTB regulations and TTB-approved flavors here: 
When developing a beverage product, there's no shortage of flavor companies you can partner with as you refine and perfect your product's flavor. For the best partner in the flavor game, look for flavor companies that:
Know the beverage industry
Formulate premium, high-quality, all-natural flavors
Are experts in developing custom beverage flavors
Create flavors for current market demands, including flavors that tailor to specific lifestyles and diets (like vegan diets, kosher diets, low protein diet, keto diet, GSA diet, and gluten-free diet)
Offer a wholesale program
Have no minimum order requirements
Deliver faster than normal turnaround times for quick shipping
All-natural flavors are derived from real, fresh sources that deliver a premium taste. Additionally, true-to-source flavors never include unhealthy, imitation additives or derivatives. Bickford's all-natural beverage flavors and extracts are never formulated with any added sugar or salt and are always certified kosher, low-protein, low-carbohydrate, and gluten-free.
We recommend using 1/2 of what a typical recipe calls for. Start with 1/4% to 1/2% of your total volume, titrating up or down depending on desired strength.
Stay Up to Date On The Latest Flavor Trends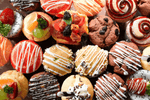 Is your business keeping up with the latest baking trends? Visit the Bickford Flavors website for what's trending today.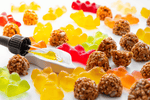 The ever-growing CBD market moves fast. Bickford's industry-leading flavors can help you stay ahead of the competition.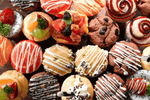 Is your business keeping up with the latest baking trends? Visit the Bickford Flavors website for what's trending today.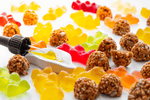 The ever-growing CBD market moves fast. Bickford's industry-leading flavors can help you stay ahead of the competition.