Flavoring Olive Oil and Vinegar
The conversation surrounding olive oils and vinegars is a lot like the one that commonly surrounds wine: the selection is vast and diverse and some types and flavors of olive oils and vinegars pair better with certain foods over others. 
While most dishes and entrees utilize olive oils and vinegars as cooking companions or finishing top notes, there's one thing we know you're looking for: flavors and extracts that will transform the profile of your olive oil or vinegar application into something bold or artisanal or delicate - or anything in between.

Our all-natural, certified Kosher extracts help at-home cooks, renowned chefs and large- and small-scale manufacturers create outside the box and achieve incredible flavors and aromatic scents for their olive oil or vinegar applications.

Whether you're trying to develop a buttery or piquant or sweet end product, start by viewing our entire line of premium flavor extracts for olive oils and vinegars.
Properties of Bickford's Flavors and Extracts for Olive Oils and Vinegars
We have over 100 extracts and flavors, all centered around 100-year-old formulas that are rooted in originality and mastery.

Formulated to be stronger and more versatile than other flavoring methods - and
weighed to give your application the flavor potency you desire - here's what you can expect from our flavor extracts:

They are:
Certified Kosher
Highly heat stable
Never suspend in alcohol, with the exception of Pure Vanilla, which contains 35%
alcohol by volume
Suspended in a water or oil base
Free of additional salt and sugar
Why a Water or Oil Base Makes a Difference
It is common for flavor manufacturers to suspend their extracts in alcohol, but at Bickford Flavors, we have always suspended ours in either a water- or oil-soluble base.

Water and oil are neutral and more superior carriers to flavor than alcohol.

The key benefits are that water and oil suspensions never add any additional flavor and do not evaporate or bake-out as rapidly when exposed to heat - as an alcohol-based extract does. Because of this, your finished product will taste better, smell better, and maintain its flavor character longer.
Premium Flavors at Wholesale Prices
Whatever kitchen or company you come to us from - large or small - we take tremendous pride in being our partners' go-to source for high-quality, naturally-sourced flavors.

Whether you're a chef, manufacturer, retailer, distributor, or other food service professional, our flavors will help your application meet current market demands and specific labeling needs that are suitable for a wide range of diets and lifestyles – such as certified kosher, low-protein, low-carbohydrate, gluten-free, and more.

Through our flavor wholesale program, you will:
Receive preferred pricing
Benefit from no minimum order requirement after one gallon
Be guaranteed faster than normal turnaround times and shipping

Learn more about our wholesale program, or get started today by downloading our wholesale business verification form.
Flavor Pairings for Olive Oil
Olive oil aficionados know that there are a whole range of styles, from grassy to fruity to peppery and robust. Bickford has the diverse flavor offerings to amp up your favorite oils in any way you want.

Our products deliver the character of infused or flavored oils without the hassle of sourcing and preparing your mix-ins. This can be an especially huge advantage for commercial food prep—product freshness and availability often vary from year to year, and even month to month.

And it's not just about the convenience factor. Oils infused with herbs, garlic, and other veggies can actually be a source of food illnesses like botulism.1
It's hard to name a more iconic culinary combo than olive oil and garlic. Derived from high-quality sources, our oil-soluble garlic flavor infused with olive oil is a great idea for garlic breads or your favorite chicken or steak dishes. To add a rich, comforting undertone to that favorite marinade, give our garlic butter flavor—a culinary powerhouse—a try.
Herbs and olive oil, another classic combination, couldn't be easier with the right flavors from Bickford.
Looking to add a touch of brightness to cut through rich oils? Our lemon flavor is the perfect substitute for a twist or rind of lemon.
Our oil-soluble flavors are specifically designed to work with oils, with no emulsification necessary.

Learn more about the advantages of oil-soluble flavors.

There are more cooking oils on the market now than ever. Many of our oil-soluble flavors are great in partnership with other oils trending with today's health-conscious consumer.
Bickford flavors are formulated to work with oils like:
Avocado oil
Flaxseed oil
Walnut oil
Sunflower oil
Flavor Pairings for Vinegar
Whether it's salad dressings, dipping sauce, pan reductions, or pickling your recent haul of garden veggies, vinegar is a workhouse in the home and commercial kitchen. Many people don't know that vinegar takes well to flavor infusions.

Berries, with their natural balance sweetness and tartness, are natural candidates for pairing with vinegar:

Buy Pomegranate Flavor

Buy Raspberry Flavor

Buy Boysenberry Flavor

And savory elements like garlic, ginger, and herbs are equally at home in vinegars.

Bickford's flavors are designed to be stronger than our competitors, so remember to start with just a drop or two when developing a recipe!
Create a Custom Flavor
If you have a specific, one-of-a-kind flavor in mind, we're determined to bring it to life. As expert flavor chemists, we can create any custom flavor for your olive oil or vinegar application.

To learn more about a custom flavor partnership, find everything you need to know here:
Want to browse our flavors first? Get started.
Resources:
1Penn State Extension. How to Safely Make Infused Oils. Accessed May 30, 2022. https://extension.psu.edu/how-to-safely-make-infused-oils
Stay Up to Date On The Latest Flavor Trends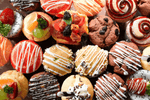 Is your business keeping up with the latest baking trends? Visit the Bickford Flavors website for what's trending today.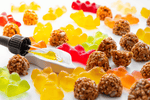 The ever-growing CBD market moves fast. Bickford's industry-leading flavors can help you stay ahead of the competition.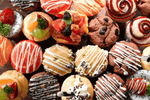 Is your business keeping up with the latest baking trends? Visit the Bickford Flavors website for what's trending today.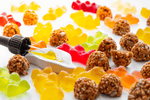 The ever-growing CBD market moves fast. Bickford's industry-leading flavors can help you stay ahead of the competition.