Flavorings and Extracts for Dressings, Sauces & Condiments
Food lovers and manufacturers alike know that a simple sauce or dressing can enhance any dish, from apps to main courses to desserts. For over a century, Bickford has been America's flavoring manufacturer for condiments, sauces, dressings, marinades, and basically any other product you can think of!
Whatever your application is meant for, our naturally-sourced flavors and extracts can deliver the flavor enhancement and impact you desire. That right top note or finishing spread will take your product from ordinary to delectable.

Explore our more than 200 all-natural, certified Kosher flavors for your application.
Our Flavors & Extracts Are Great For a Range of Applications
At Bickford, we pride ourselves on making products that are delicious in any culinary product you can dream up.
Our flavors are ideal for a wide array of diverse applications, including but not limited to:
Dressings
For a vibrant salad topper, our oil-soluble lemon ginger flavor (also available in water-soluble) adds a little heat, a citrusy bite, and an intense flavor. Milder, sweeter fruit flavors like pomegranate and plum also make delicious dressings.

For some inspiration, check out the black raspberry dressing that accompanies our pear salad recipe—our raspberry and lemon flavors play an important supporting role with their tartness and sweetness.
Marinades
Access to a range of quality flavors is also helpful for whipping up easy, flavor-packed marinades. In most cases, it's as easy as adding some flavor (our zesty jalapeno lime, for example) to a base of acid and oil.

Bickford's blood orange and garlic flavors add an understated elegance to the briny, buttery flavor of scallops. Click here for the recipe to give it a try.
Sauces
Your customers know that any given dish is only as good as the sauce that comes on it! Our flavors never contain any fillers, and will help your sauces stand out from the competition.

Bickford's smoky bacon barbeque sauce—with a little help from our bacon or maple bacon flavors—is a complex, umami-packed sauce that can compete with that of the best pitmasters!

And to amp up the smoky and spicy another degree, give our chipotle bacon flavor a try in your favorite sauce.
Dips
Whether it's the big game or a weekly game night, the right dip can really bring a party together. Spinach and artichoke dip is a classic, and our recipe boasts an extra-herbaceous kick from optional basil or rosemary flavors.

For a sweeter take, s'mores pudding dip combines ingredients like marshmallows, cocoa powder, butter, and Bickford's top shelf vanilla extract for a future family favorite.
Condiments
Far from an unnecessary enhancer, the right condiment can take an already-tasty product over the top. Try a few drops of our honey flavor in your favorite mustard for the best honey mustard you've ever had, or consider a splash of chipotle flavoring in your mayo for a spicy kick.
Have another application you'd like to make that's not listed here? Let's get in touch.
After understanding what you're trying to create, one of our flavor experts can recommend a flavor(s) that will help you develop an irresistible end product.
Properties of Bickford's Flavor Extracts
Derived from high-quality, all-natural flavor sources, our flavorings are:
Highly heat stable
Never suspend in alcohol
Suspended in a water or oil base
Formulated to be stronger and more concentrated than other flavoring methods
Natural and free of additional salt and sugar
With most of our flavors stemming from 100-year-old formulas, our decision to develop our flavors in water-soluble or oil-soluble base suspensions was made to help you produce the best possible products.

Oil and water are more neutral, superior carriers than alcohol - never imparting additional flavor or "baking-out," as traditional alcohol-based extracts do. In turn, our flavorings help your condiment, sauce or dressing application taste and smell better.
Create Custom Flavor Combinations
As expert flavor chemists, we're here to help create any custom flavor you're dreaming of. If you're interested in exploring this flavor avenue further, check out the Bickford flavor wheel.
Here are some unique flavor combinations you may not have thought of:
It may surprise you, but fruit and heat go great together. Combining oil-soluble habanero and mango flavors in a marinade for your favorite chicken, shrimp, or veggies makes for a mouthwatering meal.
Adding a hint of citrus can bring out the best in your favorite fruit. For instance, the pairing of raspberry and lemon in a vinaigrette will keep your customers coming back.
Learn more about creating custom flavors.
Flavor Extracts Suitable for a Wide Range of Diets and Lifestyles
The market for dressings, sauces and condiments may seem saturated, but those in the food industry know there are miles and miles of innovating to go.
Whether you're an at-home cook, chef, or large- or small-scale manufacturer, distributor, or other food service professional, you can step beyond the ubiquitous canned sauces and dressings and create a unique application that will impart a specific flavor or enhance an already existing flavor to deliver a signature complement to any dish or entrée.
Our flavors offer a solution to naturally improve the flavor of products tailored to today's health-conscious consumers, aligning with diets and lifestyles like low-protein, low-carb, gluten-free, GSA, and others.
Bickford Is Your Flavoring Manufacturer for Sauces, Dressings and Condiments
After over a century of serving food manufacturers of all types, we can say the "secret sauce" to our success has been a commitment to quality and to meeting the needs of our customers.
In addition to our premium flavors, we offer a wholesale program for partners who require large quantities.

Our wholesale flavoring and extracts partners receive:
Preferred pricing on bulk flavoring orders
Faster than normal shipping
No minimum order requirement after one gallon
Learn more about our wholesale program, or get started by downloading our wholesale business verification form.
Want to browse our flavors first? Get started here.
Stay Up to Date On The Latest Flavor Trends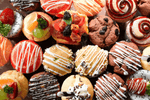 Is your business keeping up with the latest baking trends? Visit the Bickford Flavors website for what's trending today.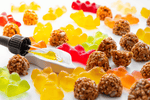 The ever-growing CBD market moves fast. Bickford's industry-leading flavors can help you stay ahead of the competition.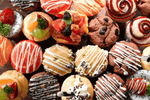 Is your business keeping up with the latest baking trends? Visit the Bickford Flavors website for what's trending today.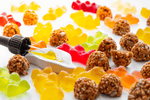 The ever-growing CBD market moves fast. Bickford's industry-leading flavors can help you stay ahead of the competition.