CBD Flavors for Your Oils, Gummies, Baked Goods and More
When your products include a substance hailed as a wonder ingredient like CBD, you're well aware of the multitude of benefits your application delivers. But we understand that standing out in this new, competitive market isn't easy.
At Bickford Flavors, our experts are second to none when it comes to carefully curating flavors that can make your CBD application stand out and find success in the CBD market.
Our CBD flavors and extracts are ideal for (but not limited to!):
Tinctures
Fruit chews
Gummies
Beverages
Baked Goods
Oils
If you have another application in mind that is not listed here, get in touch with us today. Our flavor experts will be more than happy to understand your needs and recommend a type of flavor that would work well.
Push your product ahead and attract a raving consumer base by infusing your application with naturally sourced flavors and extracts that will give it the exact flavor consistency it requires.
Shop our premium line of more than 200 all-natural, certified Kosher CBD flavors.
What is CBD?
CBD: you've seen those three letters everywhere for the last few years. But if you're interested in trying CBD or adding it to your line of products, it's best to know the basics.

CBD stands for cannabidiol, and it's a compound found in the marijuana (cannabis) plant. Though unlike tetrahydrocannabinol (THC), CBD is non-psychoactive and doesn't produce a "high."

CBD is known for a range of health benefits, including:
Improving anxiety and depression symptoms
Relieving pain
Reducing inflammation
Improving sleep
Serving as a holistic medicinal treatment for various conditions
Curious about cloud water? Find out about the latest CBD trends.
A Range of CBD Oil Flavors
For simplicity and ease of use, CBD oil is the product of choice for millions of consumers.

CBD oils are simply cannabidiol combined with a carrier oil—common options include:
Avocado oil
Hemp seed oil
Coconut oil
Medium-chain triglyceride (MCT) oil
A major factor that sets Bickford apart is our wide range of oil-soluble flavors and oil-soluble extracts. When you're infusing flavor into an oil (or any oil-based product), there's no need to add an emulsification step to incorporate the flavor—simply add it directly to your application!

CBD brands also rely on Bickford for their CBD tincture flavoring, too!

Find out more about our flavors' nutritional content.
Flavors for CBD Gummies
There are few better mediums for unique flavor pairings than gummies! And with their ease of storing and eating on the go, they're perfect for CBD infusion.

Here's a simplified look at the gummy-making process: gelatin, your choice of flavoring, and water are combined then heated and poured into molds.

Such a simple process gives the gummy flavor a chance to shine!

Read about why Bickford is the industry's premier candy flavor provider.

A few of our favorite gummy flavors include:
To get started in the kitchen, check out our tried-and-true recipe for gumdrop candies or our comprehensive guide to gummy flavoring.
CBD Beverage Flavors
The world of CBD beverages is growing larger (and more lucrative) every day. According to a report from Facts & Factors1, the CBD-infused beverage market is expected to reach over $14 million by 2026 (up from $3.4 million in 2020).
Types of trending CBD beverages include:
CBD seltzer and sparkling water
CBD cocktails and mocktails
CBD coffee and lattes
CBD water
But offering the latest and greatest beverages alone isn't going to win over new customers. If you want to stand out, flavor matters.
Here are some of our beverage flavor suggestions:
Go in an herbal direction with spearmint
Coconut brings that cool, refreshing essence on hot summer days
CBD Baked Goods
While beverages and oils have skyrocketed in popularity, now-trending CBD baked goods are worth your consideration too. Many CBD consumers now enjoy the compound's benefits along with a tasty treat such as a brownie, cookie, or muffin.

Here are some CBD baking best practices to keep in mind:


Find the right medium: Rather than using the plant matter itself, it's usually better for CBD cooking or baking applications to cook the compound into a base fat like oil or butter.
Watch your temperature: CBD's boiling point occurs somewhere around 350° Fahrenheit. Baking it at higher temperatures can cause the ingredient to evaporate.
Use proper storage: CBD can lose potency when it's exposed to light and heat—storing CBD baked goods in a cool, dark place is essential for shelf life.
Looking to connect with new customers? Learn how to market your CBD product for maximum impact.

Here are some CBD baking flavor suggestions:
Click here to check out Bickford's comprehensive guide to baking flavors and extracts.
A Wide Array of CBD Flavor Profiles
In the fast-growing, highly competitive CBD market, consumers have a whole world of CBD oils, tinctures, fruit chews, gummies, and beverages to choose from. If the application you produce doesn't have the right texture, visual appeal, and – above all – flavor consistency, most consumers won't hesitate on passing.

That's why everything comes down to flavor. To create a stand-out CBD edible application, the flavors you use must leave a lasting impression on consumers.

What flavor profile are you going for?
Our fruit flavors are water soluble and top sellers for gummy manufacturers:
Our mint flavors are both water and oil soluble, and the oil-based flavors are top sellers for CBD tinctures. Most CBD tinctures are in an oil base, such as MCT, hemp seed oil, or olive oil.
Our citrus flavors are both water and oil soluble, and they are popular in both gummies and tinctures because of the intense flavor:
Our tropical fruit flavor is both water and oil soluble and popular in both gummies and tinctures.
Are you looking to mask an earthiness or bitterness in your CBD distillate?
Let Bickford's CBD flavors and extracts help you deliver an incredible taste to your CBD application.
Creating Custom CBD Flavors
Bickford's 200+ flavors provide a lot of possibilities. But the sky's the limit—if you can't find the exact extract you're looking for, let us create a custom CBD flavor for you.

We develop a wide-array of application-specific custom flavors that are always made from high-quality, all-natural flavor sources.

If you'd like to learn more about partnering with us on custom flavorings and extracts, read more about creating the perfect custom flavor.
Best-in Class Flavors at Wholesale Prices
CBD makers and manufacturers depend on our flavor extracts to create their best-selling applications - and they do it all through our CBD flavors wholesale program.
Bickford's wholesale program offers:
Preferred pricing
No minimum order requirement after one gallon
Faster than normal turnaround times, with same day shipping if ordered by the specified time
Learn more about our wholesale program for CBD flavors, or get started today by downloading our wholesale business verification form.
Want to browse our CBD flavors first? Get started here.
Resources:
1GlobalNewswire. With 27.5% CAGR, Global CBD-Infused Beverages Market Size Worth USD 14,600 Million by 2026. Accessed June 22, 2023. https://www.globenewswire.com/en/news-release/2022/09/14/2516323/0/en/With-27-5-CAGR-Global-CBD-Infused-Beverages-Market-Size-Worth-USD-14-600-Million-by-2026-Exclusive-Report-by-Facts-Factors.html
Stay Up to Date On The Latest Flavor Trends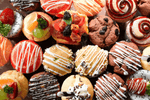 Is your business keeping up with the latest baking trends? Visit the Bickford Flavors website for what's trending today.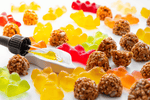 The ever-growing CBD market moves fast. Bickford's industry-leading flavors can help you stay ahead of the competition.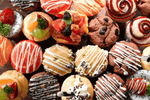 Is your business keeping up with the latest baking trends? Visit the Bickford Flavors website for what's trending today.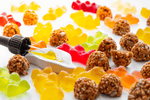 The ever-growing CBD market moves fast. Bickford's industry-leading flavors can help you stay ahead of the competition.