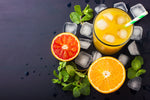 The human body is made up of over 60 percent water, so staying properly hydrated is not only recommended, it's essential; And while water is a popular beverage choice, most people are constantly searching for something with a bit more flavor to quench their thirst.

That's why creating new and inventive beverage flavors and drink options has proven so lucrative for a number of beverage creators and innovators.

Being able to identify what new beverage flavors and trends are emerging has enabled some manufacturers and small and large batch makers to capitalize on the ever-evolving taste preferences of the masses and introduce the industry to uniquely developed beverage ideas.  
Refreshing Facts: Data on America's Favorite Beverage Flavors
Studies have shown that American's have very specific beverage flavor preferences.

Citrus-driven options, such as orange, lime and lemon, routinely test high among
respondents with other time-tested flavor selections, with chocolate and cola scoring high as well.

Other fruit flavors like apple and grape prove popular among most respondents,
as well as slight fruit-based variations, including lemonade and fruit-punch.

This is essential information to know when trying to decide which flavor bases to begin building innovative beverage ideas from.

Below is a listing of the top 10 beverage flavors identified in a recent market insight poll.

Considering that the average person can consume over three liters of fluid per day, creating innovative beverage options based on these popular flavors is an excellent way to address those beverage consuming needs.1
Top Beverage Flavors
Orange
Apple
Chocolate
Cola
Lemonade
Lime
Lemon
Fruit Punch
Grape
Vanilla
Innovating from the Known: Leveraging Current Data to Create the Next Flavor Craze
So, how can you set yourself apart from the competition within the highly competitive beverage market?

Taking existing market research and applying it toward your beverage offerings and future endeavors is an excellent place to start.

For example, since recent research has indicated an identifiable preference for fruit-based beverages among the American public (5 of the top 10 flavors are fruits), focusing your efforts on beverage options with one of these fruits as your foundational flavor is a statistically sharp idea.

While there are a number of existing beverage options with these specific fruit concepts, incorporating high-end flavor extracts to create a custom combination or signature flavor is an excellent way to set yourself apart from the crowd.
Consider some of the most popular beverages currently on the market:
La Croix (Lemon and Lime)
Bai fruit juice
Uncle Matt's Organic Lemonade2
All of these well-liked beverage options not only build off of the existing flavor trends, but they also enable their customers to experience variations of those popular flavors through unique or organic taste options.

Above all, these highly rated beverage choices incorporate the highest quality flavor extracts within their beverage offerings, upping the overall quality of their product and setting themselves apart from the competition.

Making progress within the beverage industry requires innovation, creativity and a willingness to push the boundaries in order to establish new trends.
A Quick Note on Delivering Fun, Bold, Authentic Beverage Flavors the Natural Way
As trendy taste and flavor preferences continue to adjust and evolve, so does the customer demand for naturally sourced ingredients.

A popular trend among many of today's consumers are organic and healthier options, placing more emphasis on the quality of the product as opposed to simply the ease at which it can be accessed.

This has placed the onus on beverage manufacturers to up their game and think outside of the box.

Incorporating higher quality ingredients and naturally sourced flavor extracts enables manufacturers to not only achieve a better overall product, it also emphasizes to their consumers that they care about their opinions and are committed to providing the best beverage experience on the market.
Custom Beverage Flavors at Wholesale Prices and Quantities
At Bickford Flavors, we offer an extensive line of more than 200 all-natural, certified Kosher drink flavorings.

Backed by our very own 100-year-old formulas, we formulate our flavor extracts for beverages to be stronger and more versatile than other flavoring methods – giving your product the exact flavor consistency it needs.

In addition to our line of flavor extracts, we create custom flavor extracts for beverages with one-of-a-kind tastes and aromas.

Our flavor extracts are formulated to meet current market demands and your specific labeling needs – such as no sugar added, low-calorie, low-protein, low-carbohydrate, gluten-free, and more.

Want to learn about partnering with Bickford Flavors to create your custom beverage flavor(s)? Find everything you need to know here:
Create Custom Beverage Flavorings
Partners of Bickford's Natural Drink Flavoring Wholesale Program Benefit From:
For our wholesale partners – who range from at-home brewers to large, commercial beverage manufacturers, and more – best-selling products are made while benefiting from wholesale prices and quantities.

Our wholesale program offers:
Preferred pricing
No minimum order requirement after one gallon
Faster than normal turnaround times

We are committed to your growing business and beverage product line.

To get started, download our wholesale business verification form or ask about our sample program.
Download Wholesale Business Verification Form
Have questions? Contact us today or call 440-494-7777. Toll free at 800-283- 8322.
Resources:

1 Mayo Clinic. Water: How much should you drink every day? Accessed September 4, 2019. https://www.mayoclinic.org/healthy-lifestyle/nutrition-and-healthy-eating/in-depth/water/art-20044256.

2 Eat This, Not That. Every Popular Drink in America—Ranked! Accessed September 4, 2019. https://www.eatthis.com/popular-drinks/.