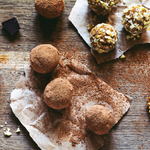 If you're looking for a simple but extremely flavorful cookie recipe, this insanely easy sherry truffle recipe is for you!

Simply combine all the ingredients and roll them into a ball, then roll that ball into your favorite topping.

One of our loyal customers shared this recipe with us and we've been making it ever since. For a gluten-free sherry truffle recipe alternative, substitute your favorite gluten free wafer.
Our Fruity Sherry Truffle Recipe
Ingredients
2 cups finely chopped pecans
14 oz can of sweetened condensed milk
2 tbls Bickford Sherry Flavor
4 oz finely shredded sweetened coconut 
4 oz finely chopped candied cherries
4 oz finely chopped candied pineapple
11 oz box of vanilla wafers (crushed)

For rolling:
Confectioner's Sugar
Cocoa Powder
Finely chopped pecans
Finely shredded coconut
Directions
In a large bowl, combine crushed vanilla wafers, pineapple, cherries, coconut and pecans. In a small bowl, combine sweetened condensed milk and Bickford Sherry Flavor. 
Using your cleaned hands, add the wet ingredients to the dry ingredients until they're combined and can be pressed together to make a ball.
Using a tablespoon or a small cookies scoop, measure small amounts of the dough and roll into a ball. Set aside on a lined plate or baking sheet. 
After shaping the dough into balls, toll them in the topping of your choice. 
Alternatives: In addition to rolling this dough into individual truffles, you can also create a cookie roll and cut the roll into individual cookies. 
Store these lovely treats in the freezer and snack on them for weeks to come!
Recipe submitted by Mary Sue Brittly