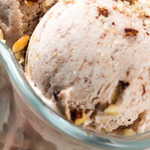 Butter pecan is a timeless, classic ice cream that hits all the right notes: smooth vanilla, roasted pecans, and an incredible, subtle butter flavor. Of course, with something as delicious as butter pecan, unwanted calories usually come attached.

For those looking for a healthier option, or those in search of a vegan butter pecan ice cream, we have one delectable vegan ice cream recipe for you that includes our premium ice cream flavorings:
Healthy, Homemade Vegan Ice Cream Recipe for Bourbon Pecan
Ingredients:
4-5 medium sized frozen bananas
1 cup chopped pecans
2 tablespoons Bickford Flavors Bourbon
2 teaspoons Bickford Flavors Vanilla Extract
2 tablespoons maple syrup

Instructions:
Cut frozen bananas into 3 inch chunks. Place in a high power blender with the maple syrup, Bourbon Flavor and Vanilla Extract.

Blend until smooth. Spoon ice cream into a large bowl and fold in chopped pecans.

Either serve immediately, or freeze in an airtight container for at least 2 hours.

Serve with a few chopped pecans and a splash of your favorite bourbon for garnish.
This vegan butter pecan ice cream is something else, isn't it? Feeling ambitious to try your hand at another homemade vegan ice cream? Let us help you make the flavor irresistible. Explore our all-natural, certified Kosher ice cream flavors:
Shop Ice Cream Flavor Concentrates
Recipe inspired by: https://cooking.nytimes.com/recipes/3038-one-ingredient-banana-ice-cream