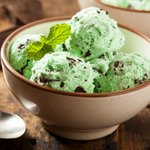 Finding the perfect scoop of ice cream with a creamy texture and rich flavor is no small task. Even when the cold confection is a vegan option, that non-dairy ice cream needs to meet the same gold standard and, luckily, this recipe provides you with a perfect option.

Sure, there are more than a number of non-dairy options in the freezer aisle, but making your own is worth it in the taste department. That's why this recipe is so perfect!

Why this vegan ice cream recipe?
This homemade vegan ice cream is the real deal and it has a flavor profile that's without equal.
This particular vegan mint chocolate chip ice cream is both dairy-free and vegan, making it the perfect option for those looking to avoid certain ingredients.
With minimal prep time and ingredients that you can easily keep on hand, this vegan ice cream recipe can be yours within minutes of a craving.
Bonus, there's no churning or freezing necessary before you dig in.
Here's how to make this homemade vegan ice cream with our premium flavorings:
Ingredients:
4-5 medium sized frozen bananas
1.5 cup mini semi-sweet chocolate chips
2 tablespoons Bickford Flavors Peppermint
2 teaspoons Bickford Flavors Vanilla Extract
2 tablespoons maple syrup

Instructions:
Cut frozen bananas into 3 inch chunks. Place in a high power blender with the maple syrup, Peppermint Flavor and Vanilla Extract.
Blend until smooth. Spoon ice cream into a large bowl and fold in chocolate chips.
Either serve immediately, or freeze in an airtight container for at least 2 hours.
Serve with a few chocolate chips sprinkled on top.
Let us know how much you loved this vegan mint chocolate chip ice cream. If you want to make other ice cream flavors, we've got a wide variety of ice cream flavorings for you to choose from:
Shop Ice Cream Flavor Concentrates
Bickford's Premium, All-Natural Flavors in this Recipe
All-Natural Peppermint Flavoring

If there's one taste that typifies the holidays, it's most definitely our peppermint flavoring. The minty coolness of this flavoring instantly transforms old cake, cookie and milkshake recipes into entirely new creations.

So, if you can't get enough of that classic minty flavor in this vegan mint chocolate chip ice cream, then this flavoring is the perfect addition for any of your go-to culinary creations.

Perhaps you can bake up a batch of chewy chocolate fudge cookies and cover them in buttercream frosting with peppermint. Just make sure you save a few for family and friends!

If you're more of a dark chocolate lover, this flavoring is ideal for that specific ingredient. Imagine a three-layer dark chocolate and mint masterpiece with a spoonsful of peppermint cream cheese frosting between the cake, and then topped with peppermint swirled meringues.

We're drooling just dreaming of it! And what about ice cream and milkshake recipes as well?

Perhaps adding this cool mint flavoring to a double chocolate shake and pairing it with homemade fudge sauce and rich vanilla bean ice cream is the dream dessert you've been longing for.

However you decide to use Bickford's all-natural, premium peppermint flavoring outside of this vegan mint chocolate chip ice cream, you simply can't go wrong.
All-Natural Pure Vanilla Extract

There's a reason our pure vanilla extract is a favorite among our customers. In addition to our homemade vegan ice cream, adding this delicate vanilla extract into moist cakes and decedent frostings creates a divine vanilla flavor that can't be beat.

Imagine spreading buttercream frosting with pure vanilla extract on top of your favorite cupcake recipe. Or putting a few drops into your go-to French toast recipe. However you use it, the outcome is sure to be incredible.

Bickford's pure vanilla extract is derived from the highest quality sources and meticulously formulated to deliver a stronger, more versatile taste experience.

This pure vanilla extract is perfect in a wide variety of recipes, from cookies to custards and creams. Think homemade glazed vanilla doughnuts, a vanilla cloud cake, vanilla meringue, a bowl of warm vanilla rice pudding, or a steaming mug of malted white chocolate. You can even make a wonderful pear vanilla jam for your breakfast pastries all made from scratch.

From hot to cold, baked to whipped, using this pure vanilla extract in all your favorite recipes is the best decision you can make in the kitchen.
If You Buy Bickford's Peppermint Flavoring, You Could Also Use It In: 
Classic Peppermint Patties
When these classic peppermint treats are made with our premium, all-natural peppermint flavoring, the taste sensation is second to none. That's because anyone who loves the taste of peppermint knows the peppermint patty is unrivaled.

Chocolate Peppermint Pudding Shots
These peppermint pudding shots are just the thing to get the party rocking. With chocolate, peppermint and a subtle kick of Rum Chata, you simply can't go wrong.

Mint Cream Brownie Recipe
If you're looking for the perfect minty, chocolate dessert then this mouthwatering mint brownie recipe is for you. From the creamy middle to the gooey exterior, everything about this treat is divine.
If You Buy Bickford's Pure Vanilla Extract, You Could Also Use It In:
All-Natural Vanilla Coffee Creamer
A few simple ingredients allows you to whip up a batch of your very own homemade pure vanilla coffee creamer. It'll take your coffee to an entirely new level!

Raspberry Cheesecake Muffin Recipe
This dessert is the perfect addition to any party. Our raspberry cheesecake recipe will wow all of your friends with a burst of fruit and a deep vanilla finish.

Baked Granola Recipe
A baked granola recipe this good is the perfect topping for yogurts and ice creams. With toasted nuts, oats, dried fruit and pure vanilla extract this recipe comes together to create the delectable mix.

Caramel Corn Recipe
This caramel corn recipe is magnificent for any event. The peanuts give it a deluxe caramel corn texture and the pure vanilla extract take the flavor experience over the top!
Additional Vegan Ice Cream Recipes You May Enjoy
Strawberry Cheesecake: Vegan Ice Cream Recipe ("Nice" Cream)
This vegan ice cream recipe provides a wonderful take on the beloved strawberry cheesecake frozen treat. Made with bananas instead of milk, cream, and sugar, this homemade vegan ice cream recipe is tailored to impress your taste buds with our premium flavorings.

Bourbon Pecan: Vegan Ice Cream Recipe ("Nice" Cream)
For anyone in the market for a healthier ice cream option, we have a delectable vegan ice cream recipe for you. Smooth vanilla, roasted pecans, and an incredible, subtle butter flavor without the unwanted calories makes this the perfect treat.