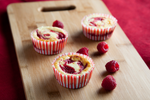 Ingredients:
1 cup fresh raspberries

3 eggs

1 cup sugar

3 oz. cream cheese

½ tsp. Bickford cream cheese flavor

6 tbsps buter

1½ tsp. Bickford pure vanilla flavor

1 tsp Bickford Raspberry flavor

2½ tsp. baking powder

2 cups plain flour

½ tsp. salt

1 cup milk
Directions:
Preheat oven to 400°F. Grease muffin tin or line with paper cases. In a bowl, beat together the cream cheese and the Bickford's Cream Cheese Flavor, with ¼ cup sugar, 1 egg, Bickford's Raspberry Flavor and ½ teaspoon Bickford's Pure Vanilla Flavor until completely smooth. Put aside for later.  In saucepan, combine the butter, milk and remaining Bickford's Pure Vanilla Flavor; stir continually over medium heat until butter melts. Cool mixture until warm, then beat in remaining 2 eggs, 1 at a time. In large bowl, combine baking powder, flour, salt and remaining ¾ cup of sugar. Add butter and milk mixture to flour and baking powder mixture and stir until blended. Add raspberries and gently fold into mixture. Divide mixture equally in each muffin tin. Spoon about 2 tsp. of cream cheese mixture on top of each muffin and bake for about 20 minutes.