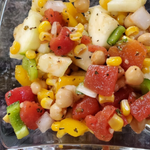 Eating healthy or making a healthy side dish - for dinner or any occasion - never has to mean bland, unsatisfying flavor. In this vegan bean salad, you'll find good-for-you ingredients and fun, tangy flavors.

The ease of this easy vegan bean salad should be emphasized, too, for you can make ahead and chill for a few hours before serving. Best yet, this fantastic recipe is naturally gluten-free and vegan.

Bickford's Easy Gluten-Free & Vegan Bean Salad
Ingredients:
1 medium zucchini
2 small yellow sweet peppers
1 small red sweet pepper
2 green onions - chopped
1 16 oz can of chickpeas - drained and rinsed
1/4 cup olive oil
1 tsp
Bickford Flavors Blood Orange Flavor
2 tbsp apple cider vinegar
2 tbsp red wine vinegar
salt & pepper to taste
Assembly:
Combine all ingredients in a bowl. Add various fresh or dried herbs to taste (we suggest basil, chives, thyme or parsley) Serve chilled.
We have hundreds of all-natural, premium flavorings for just about any homemade vegan and gluten-free recipe you want to make next. Always naturally sourced and certified Kosher, explore our flavors and extracts: Shop Vegan & Gluten Free Flavors.
Recipe submitted by Michele Tarsitano-Amato