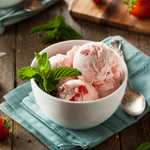 With this vegan ice cream recipe - a take on the beloved strawberry cheesecake frozen treat - you can truly indulge. As a "nice" cream, since it's made with bananas instead of milk, cream, and sugar, this homemade vegan ice cream recipe will tailor to your lifestyle and completely impress your taste buds with our premium ice cream flavorings.

Come back for seconds and thirds, or polish the entire batch off. We hope you enjoy:
Homemade Vegan Ice Cream Recipe for Strawberry Cheesecake
Ingredients:
4-5 medium sized frozen bananas
1 cup chopped frozen strawberries
2 tablespoons Bickford Flavors Cream Cheese
2 tablespoons maple syrup

Instructions:
Cut frozen bananas into 3 inch chunks. Place in a high power blender with the frozen strawberries, maple syrup and Cream Cheese Flavor.

Either serve immediately, or freeze in an airtight container for at least 2 hours.

Serve with a few slices of strawberry for garnish.
We have hundreds of all-natural, premium flavorings for just about any homemade vegan ice cream recipe you want to make next. Always naturally sourced and certified Kosher, explore our ice cream flavors:
Shop Ice Cream Flavor Concentrates
Recipe inspired by: https://cooking.nytimes.com/recipes/3038-one-ingredient-banana-ice-cream