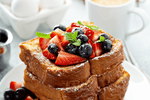 Ingredients:
1 tsp ground cinnamon
4 eggs
1/4 cup milk
1/4 tsp Bickford Pure Vanilla Flavor
8 slices bread
butter or oil for cooking
maple syrup for topping
powdered sugar, berries, whipped cream (optional) for garnish

Instructions:
Heat an electric skillet or large skillet over medium heat. Coat with butter or cooking oil.
In a pie plate, whisk together cinnamon, eggs, milk, and Bickford Pure Vanilla Flavor.
Dip bread in mixture and fry until golden brown. Flip and cook the other side until golden brown.
Sprinkle with powdered sugar and serve with syrup, berries, cream, or other toppings.
Photo by Ralph Daily - French Toast, CC BY 2.0, https://commons.wikimedia.org/w/index.php?curid=45206035