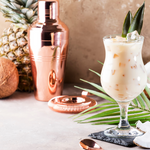 Drinks are not just ways of staying hydrated, they offer an avenue into culture and tradition that can feed our souls - vegan cocktails included.
When it comes to vegan alcoholic drinks, Kahlua Colada is one of the best. It will not just invigorate but also send your taste buds into a journey of cultural exploration.

A lot of times, you'll see Kahlua used in classic drinks like the white/black Russian or mudslides. Spiking the traditional Pina Colada with the flavor of Kahlua is also great because it adds a touch of the unexpected, but also is in perfect harmony for the drink.

Why this kahlua colada recipe?
Adding Bickford's Kahlua flavor to your Kahlua Colada vegan cocktail will add a sweet and tasty coffee liqueur that infuses a ton of flavor into an already tasty beverage.

Our version of this vegan alcoholic drink has been developed by infusing the coffee liqueur into the traditional flavors of the Pina Colada.

This vegan cocktail is an excellent choice for a small get together. It works as a summer drink for pool parties or as shots to spice up your weekly game night.
Bickford's Premium, All-Natural Flavors in this Recipe
This Kahlua Colada is set to blow away your taste buds. Because of its coffee nature, it adds a distinct kick to the typical pina colada, taking it to a new level you didn't even know existed.

While coffee cocktails can provide a tasty buzz that'll keep you craving more, it can sometimes be difficult balancing the robust taste. That's why Kahlua, the sweet coffee liqueur that adds depth, edge and body all at once, makes it an amazing addition to this tropical classic.

Once you taste how the classic elements of the Kahlua Colada get blended together into this masterful cocktail, you'll never go back to the original version again.

Why use Kahlua flavoring instead of traditional Kahlua? Kahlua flavoring replaces the sometimes inconvenient ingredient of traditional Kahlua and delivers more flavor. This flavoring really shines in classic and vegan cocktails.

Whether it's a delicious side dish or a whimsical after dinner drink, finding creative ways to use our Kahlua flavoring is a must. You can mix it in as a primary ingredient or use it to spice up a recipe, like adding it in frosting or splashing it in a marinade.

While the coffee kick can boost your baked goods, the distinctive Kahlua flavoring is an ideal addition to drink recipes. For example, if you're looking for an after-dinner cocktail that tastes more like dessert, then you'll go nuts for Kahlua drinks like sweet martinis and even Kahlua-based shots. Whatever the case, don't be afraid to try new Kahlua recipes for any occasion.

Without further ado, here's how to make this vegan cocktail Kahlua colada recipe with our delicious Kahlua flavoring.

Bickford's Kahlua Colada Vegan Cocktail Recipe
Ingredients:
1 oz Cream of Coconut
1/2 oz dark rum
2 oz pineapple juice
1 cup ice
Instructions:
Place all ingredients in a blender and serve. Garnish with a cherry and/or pineapple chunks. Yields one serving.
If You Buy Bickford's Kahlua Flavor, You Can Also Use It In:
Frozen Fruit Slush Recipe
This frozen fruit slush is a lovely and refreshing summertime treat. It's a citrus-based slush made with fresh fruit, peach flavoring and lemon-lime soda. Just mix and freeze.

Chocolate Cheesecake Pudding Shots
This decadent dessert drink will help deliver the fun on any evening of entertainment. These little pudding shots offer a classy spin on a boozy dessert. They look like a little bit of pudding, but the cheesecake flavor and unassuming alcohol take the experience right over the top.

In addition to these recipes, if you buy Bickford's Kahlua flavor, you could also use it in baked goods and marinade recipes.



Save