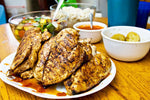 Ingredients:

Instructions:
Combine oil, vinegar, Bickford garlic and lemon flavors, black pepper, and paprika in a 1-gallon resealable bag. Seal and shake to combine.
Add 1 lb. chicken breasts, shrimp, or scallops. Reseal and toss to coat.
Lay flat in refrigerator and marinate for 1 hour.
Cook on the grill, in the oven, or in a frying pan to your liking.
Photo By U.S. Department of Agriculture - Grilled-Chicken-Picture--La, CC BY 2.0, https://commons.wikimedia.org/w/index.php?curid=17801646