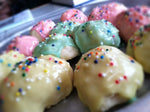 The anise flavor is growing in popularity for cookies and pastries - and for good reason. With its distinct and sweet notes, it brings a remarkable taste to many creations, especially our iced Italian anise cookies recipe. Get the recipe below and enjoy!

Our Delicious Iced Italian Anise Cookies Recipe
Ingredients for Cookies:
1⁄2 cup butter, softened
1⁄2 cup sugar
3 large eggs
1 teaspoon Bickford Anise Flavor
2 1⁄2 cups all-purpose flour (may need up to 3 cups)
1 tablespoon baking powder
2 -3 tablespoons milk
Ingredients for Icing:
2 cups confectioners' sugar
3 tablespoons milk
2-3 drops Bickford Anise Flavor
food coloring
decorative candy sprinkles

Directions:
Preheat oven to 350 degrees. Line cookie sheets with parchment paper.
Cream the butter and sugar until light and fluffy, about 5 minutes.
Add eggs, one at a time, mixing after each addition.
Add Bickford Anise Flavor.
In a separate bowl, blend flour and baking powder.
Turn mixer on med-low and add about 1/3 of the dry ingredients to the butter/sugar/egg mixture then add 1 T. milk. Add another third of the flour and another 1 T. milk. Finally, mix in enough of the remaining flour until your dough is like a brownie batter (it should be softer than a drop cookie dough).
Use a 1 T. cookie scooper to make simple round drop cookies - use wet fingers to pat any rough edges OR for an Easter-Egg look, roll 1 T. dough into an elongated ball.
Bake cookies 10-12 minutes (they won't be brown but the insides will be soft and cake-like).
Icing:
Mix sugar, milk and Bickford Anise Flavor to make a sugar glaze.
If you're adding food coloring, divide the glaze into bowls and add color(s).
Glaze cookies and immediately top with sprinkles.
Allow icing to harden overnight; then store in air-tight containers or freeze.
Recipe adapted from http://www.food.com/recipe/italian-anise-cookies-with-icing-and-sprinkles-214498?photo=324303