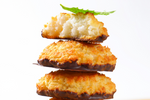 Ingredients:
1 can (14 oz) sweetened condensed milk
1 bag (14 oz) sweetened flaked coconut
1 tsp Bickford Pure Vanilla
1 tsp Bickford Orange Flavor
1 tsp Bickford Coconut Flavor
 Whites from 2 large eggs
1 bag (12 oz) semisweet chocolate chip
Directions:
Heat oven to 325o F. Line baking sheet(s) with foil. Coat sheet(s) with nonstick spray and dust with flour.  Mix sweetened condensed milk, flaked coconut, Bickford Pure Vanilla, Bickford Orange Flavor and Bickford Coconut Flavor in a large bowl. Beat egg whites in a small to medium bowl with the mixer on high speed until stiff peaks form when the beaters are lifted. Drop level measuring tablespoons of mixture about 1-inch apart on baking sheet(s).  Bake 14 to 16 minutes until lightly toasted. Slide foil onto a wire rack. Let cool completely. Peel off foil; save foil.  Melt chocolate chips as package directs. Dip bottoms of macaroons in chocolate. Replace on the foil. Slide foil back onto baking sheets. Refrigerate until chocolate sets; peel macaroons off foil. Refrigerate tightly covered with wax paper between layers up to one week.