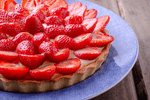 Ingredients:

Crust:
1-1/2 cup powdered sugar

1 stick butter (1/2 cup)

1 stick margarine (1/2 cup)

1 egg

1 tsp 

Bickford Almond Flavor

½ teaspoon salt

2-1/2 cup all-purpose flour

1 teaspoon cream of tartar
Directions:
Bake at 375 degrees in a 11x14 jelly roll pan or 2 small pizza pans. Bake approximately for 17-20 minutes. Careful- do not overbake!
Cream topping:
8 oz. softened cream cheese

½ cup powdered sugar

8oz. cool whip (if you prefer it fluffier & thicker add an extra 8oz. cool whip)

1 quart washed, sliced strawberries (the amount of strawberries depends on how thick you would like your fruit)

¾ cup strawberry pie glaze
Combine cream cheese and sugar and beat until creamy. Fold in or beat in cool whip. Spread on top of cooled crust. Combine strawberries and glaze and gently spoon over cream topping.
Recipe by Lee Ann Miller
Ohio Amish Country Living
 ¾ cup strawberry pie glaze
 ¾ cup strawberry pie glaze