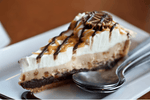 Ingredients:
1 (9 inch) prepared graham cracker or chocolate cookie crust
1 (8 oz) package cream cheese, softened
1/2 tsp Bickford Peanut Butter flavor
1/2 cup creamy peanut butter
1/2 cup powdered sugar
1 (16 oz) container frozen whipped topping, thawed
12 miniature chocolate covered peanut butter cups, unwrapped and chopped into large chunks
Directions:
Mix the cream cheese, powdered sugar, Bickford Peanut Butter flavor, and peanut butter together until smooth.
Fold in 1/2 of the whipped topping.
Spoon the mixture into the graham cracker crust.
Place the remaining whipped topping over the top of the peanut butter mixture and garnish with the peanut butter cups.
Chill for at least 2 hours or overnight before serving.
Recipe adapted from http://allrecipes.com/recipe/9174/peanut-butter-pie/