Tags:

adult beverages, alcohol, anniversary, apple, apricot, blackberry, champagne, cocktails, fig, peach, pear, raspberry, ripe strawberry, strawberry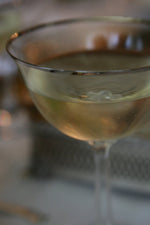 As part of our 100th anniversary celebration, we've crafted a cocktail that you can customize with your favorite Bickford Flavor! For each serving, you'll need: 1.5 oz Vodka 1 cup crushed ice Water-based Bickford flavor of choice (suggested flavors: Ripe Strawberry, Pear, Apple, Peach, Apricot, Blackberry, Raspberry, Fig) 3 oz Champagne Lemon peel, strawberry, or fruit of choice for garnish, if desired. Instructions: Chill martini classes in a freezer or by filling glasses with ice to chill while you prepare the cocktail. Dump the ice before adding the cocktail. Fill a cocktail shaker with 1 cup crushed ice. Add vodka...
---
This sparkling peach sangria recipe is a delicious, fruit-based drink that's succulent to the very last drop. Jump to Recipe While most sangrias are typically made with red wine, our piquant sparkling peach sangria recipe incorporates white wine as well as chilled ginger ale to give you a refreshingly unique sipping experience.That's why this creative spin on a classic drink is not only one of the most refreshing ways to cool off during the warm summer months, but it's also simple to make and a sure way to light up any get together. Why this sparkling peach sangria recipe? It's...
---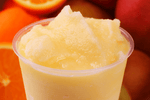 Ingredients:   12 oz frozen orange juice concentrate 6 oz frozen lemonade concentrate 2 cups sugar 20 oz crushed pineapple 8 – 10 ripe bananas 2 tsp Bickford Banana Flavor 1 qt fresh or frozen peaches 2 tsp Bickford Peach Flavor 3 cups water 12 oz lemon-lime soda  grapes or berries for garnish Directions: Mix and lightly crush everything except the water and 7-Up. Add the liquids, stir and freeze in a single container. When partially frozen, stir to blend and put in individual cups. Freeze again.  Thaw to slushy consistency and garnish with fresh grapes or berries. Makes 10-12...