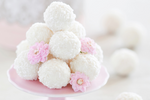 Easter Bunny Tails Ingredients:8 oz. cream cheese, softened1/2 tsp. Bickford Flavors Coconut Flavor5 c. powdered sugar2-3 c. shredded coconutDirections:Mix together softened cream cheese and coconut flavor. Add powdered sugar and 1/2 c. shredded coconut to cream cheese mixture, a little at a time, until smooth. Form balls and roll them in shredded coconut. Place on a sheet pan and chill for 10-15 minutes before serving. Store in refrigerator.
---
Tags:

almond, anise, blackberry, candy, cherry, chocolate, cinnamon, cream centers, gift, hazelut, lemon, maple, mint, orange, pecan, powdered sugar, pure vanilla, raspberry, rum
Like cake pops, these chocolate covered candy creams are bite size and can pack incredible flavor when the right flavorings are used. For these candy creams, you can choose from a variety of our all-natural, premium flavorings. View this delicious chocolate covered cream candy recipe. Chocolate Covered Cream Candy Recipe Ingredients: Cream Centers 8 oz cream cheese 2 lbs powdered sugar 1-3 tsp. variety of Bickford Flavors (ex. mint, pure vanilla, almond, anise, rum, cherry, orange, lemon) Food color of your choice   Chocolate for Coating 2-12 oz. bags of milk chocolate chips Directions: Soften cream cheese in microwave (approx....