Tags:

#celebratewithbickford, adult beverages, alcohol, autumn, beer, beermosa, beverages, cider, cocktail, fall, harvest, orange juice, party, pumpkin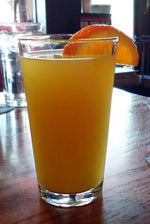 A harvest twist on the mimosa, this cocktail combines your favorite Belgian white or apple cider beer with tangy orange juice and spicy Bickford Pumpkin flavor. For pumpkin lovers, such as yourself, pumpkin flavoring can easily find its way into just about anything and you'll devour it. But, even if you're not all about the pumpkin craze, we're pretty certain you'll enjoy this pumpkin beermosa. It's definitely worth a try. Learn how to make these easy pumpkin cocktails: How to Make These Easy Pumpkin Cocktails Ingredients: 8oz bottle Belgian white beer or cider beer 1 oz orange juice 0.5-1 tsp...
---
Tags:

adult beverages, alcohol, beer, blueberry, key lime, lemon, lemonade, lime, mixed berry, orange, shandy, summer, watermelon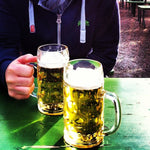 Bickford Flavors are great with all kinds of cocktails but we're inspired by National Beer day and the summertime to mention these delicious DIY shandy beers! We recommend trying lemon, lime, orange, blueberry, mixed berry, or watermelon but the possibilities are endless! For each shandy beer, you'll need: 1 light pilsner beer 1 tsp sugar 3+ drops of desired Bickford Flavor (water soluble) Directions: In a chilled pilsner glass, add sugar and 3 drops of flavor. Add beer. Some flavors may need another drop or two to acheive desired flavor. Use a clean knife to give it a very gentle...
---
Ingredients:   1 package bread mix 1½ tsp Bickford Basil Flavor 6 ounces tomato juice 6 ounces beer Sun Dried Tomatoes (optional) Cooking spray   Directions:   In bowl combine all ingredients and mix just until blended.  Spray a jelly roll pan with cooking spray. Shape bread into an oblong loaf.  Bake at 375° for 35-40 minutes.