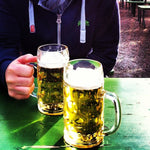 Bickford Flavors are great with all kinds of cocktails but we're inspired by National Beer day and the summertime to mention these delicious DIY shandy beers! We recommend trying lemon, lime, orange, blueberry, mixed berry, or watermelon but the possibilities are endless!
For each shandy beer, you'll need:
1 light pilsner beer
1 tsp sugar
3+ drops of desired Bickford Flavor (water soluble)
Directions:
In a chilled pilsner glass, add sugar and 3 drops of flavor. Add beer. Some flavors may need another drop or two to acheive desired flavor. Use a clean knife to give it a very gentle stir after adding additional drops of flavor. Garnish with a fruit wedge, if desired. Serve immediately.
Photo By Len Rizzi (photographer) - https://commons.wikimedia.org/w/index.php?curid=2139338
Save