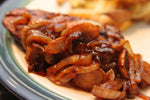 Our keto-friendly grilled steak recipe with sauteed shallots and mushroom gravy is everything you want and more, including natural keto flavors. View this easy recipe.
---
Tags:

#celebratewithbickford, adult, adult beverages, after dinner drink, alcohol, beverages, burnt sugar, cocktail, fall, gin, harvest, party, sherry, toddie, warm drink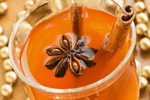 This punch yields about 1 quart, enough to serve 4 toddies. Ingredients Juice and zest of 1 lemon 2 lemons, thinly sliced, seeds removed 1 1/3 c. gin 2 1/2 c. filtered or mineral water (still) 3/4 c. sherry (dark, 'cream' sherry) 2/3 c. demerara sugar (or brown sugar) 1 TBSP Bickford Burnt Sugar flavor Instructions Add sugar, lemon zest, lemon juice, and water to a 2-3 qt. saucepan. Bring to a simmer and stir to dissolve the sugar and continue simmering for 5 minutes. Add gin and sherry. Increase heat to med-high and allow punch to steam for 3...