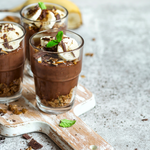 What's even better than a chocolate cheesecake mousse after dinner? A chocolate cheesecake pudding shot! This decadent bit of goodness can be presented in a shot glass or a small pudding cup...either way, you're gonna need a spoon. They can be topped with extra sweets like cookie bits, chocolate shavings and/or whipped cream. Pizzelles or your favorite cookies can be used to dip and eat this shot...enhancing the experience for you and your guests. A wonderful thing about these chocolate cheesecake pudding shots is that they're totally unassuming. Looks like a little bit of pudding, but the cheesecake flavor just...
---
Tags:

#celebratewithbickford, adult, adult beverages, after dinner drink, alcohol, beverages, burnt sugar, cocktail, fall, gin, harvest, party, sherry, toddie, warm drink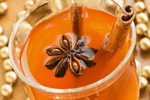 This punch yields about 1 quart, enough to serve 4 toddies. Ingredients Juice and zest of 1 lemon 2 lemons, thinly sliced, seeds removed 1 1/3 c. gin 2 1/2 c. filtered or mineral water (still) 3/4 c. sherry (dark, 'cream' sherry) 2/3 c. demerara sugar (or brown sugar) 1 TBSP Bickford Burnt Sugar flavor Instructions Add sugar, lemon zest, lemon juice, and water to a 2-3 qt. saucepan. Bring to a simmer and stir to dissolve the sugar and continue simmering for 5 minutes. Add gin and sherry. Increase heat to med-high and allow punch to steam for 3...