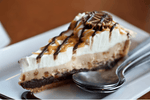 Ingredients: 1 (9 inch) prepared graham cracker or chocolate cookie crust 1 (8 oz) package cream cheese, softened 1/2 tsp Bickford Peanut Butter flavor 1/2 cup creamy peanut butter 1/2 cup powdered sugar 1 (16 oz) container frozen whipped topping, thawed 12 miniature chocolate covered peanut butter cups, unwrapped and chopped into large chunks Directions: Mix the cream cheese, powdered sugar, Bickford Peanut Butter flavor, and peanut butter together until smooth. Fold in 1/2 of the whipped topping. Spoon the mixture into the graham cracker crust. Place the remaining whipped topping over the top of the peanut butter mixture and...
---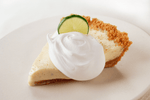 Ingredients: 1 vanilla Pie filling mix 3½ tsp Bickford Lime Flavor 1 cup whipped topping 1 graham cracker crust Directions:   Prepare vanilla pie filling as directed on the container, adding 3 tsp Bickford Lime Flavor and (optional) Bickford Green Food Color . Pour into 9-inch graham cracker crust and chill. Just prior to serving, combine ½ tsp Bickford Lime Flavor with one cup sweetened whipped topping. Spread evenly.
---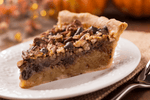 For pecan pie lovers, the addition of chocolate will knock your socks off. And for the most authentic flavoring, our pure vanilla extract is a must in this creation. View this flavor-packed chocolate pecan pie recipe. Chocolate Pecan Pie Recipe Ingredients: 1 unbaked 9-inch deep-dish pie shell 3 large eggs 1 cup light corn syrup ½ cup granulated sugar ¼ cup (½ stick) butter or margarine, melted 1 tsp Bickford Pure Vanilla Flavor 1 cup pecan halves, coarsely chopped ¾ cup semi-sweet chocolate chunks Directions:   Preheat oven to 350°. Combine eggs, corn syrup, sugar, butter and Bickford Pure Vanilla...