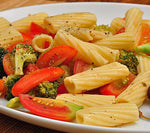 Looking for delicious vegan pasta salad recipes? Add Bickford's garlic flavor to pasta and bright and tasty vegetables for an incredible vegan italian pasta salad. View recipe.
---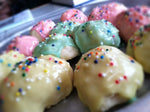 The anise flavor is growing in popularity for cookies and pastries - and for good reason. With its distinct and sweet notes, it brings a remarkable taste to many creations, especially our iced Italian anise cookies recipe. Get the recipe below and enjoy! Our Delicious Iced Italian Anise Cookies Recipe Ingredients for Cookies: 1⁄2 cup butter, softened 1⁄2 cup sugar 3 large eggs 1 teaspoon Bickford Anise Flavor 2 1⁄2 cups all-purpose flour (may need up to 3 cups) 1 tablespoon baking powder 2 -3 tablespoons milk Ingredients for Icing: 2 cups confectioners' sugar 3 tablespoons milk 2-3 drops Bickford...
---
Ingredients: 2 tsp. Italian dressing  1 medium red pepper, chopped  ⅛ tsp. Bickford's Garlic Flavor  1 can (15 oz) marinara sauce  ¼ tsp. crushed red pepper (optional)  1 pkg. (9 oz) four cheese ravioli, cooked and drained  ½ cup shredded low-moisture part-skim   mozzarella cheese  Directions: Preheat oven to 350°F. Heat dressing in large skillet on medium heat; add peppers, onions, Bickford's Garlic Flavor.  Spread ½ cup of sauce mixture onto bottom of shallow 11 x 7-inch baking dish. Cover with layers of half each of the ravioli, remaining sauce mixture and cheese.  Repeat layers. Cover with foil and bake 25 minutes or...