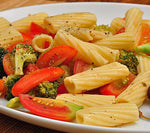 Pasta salad is one of the most quintessential side dishes. Because this salad keeps well, it's easy to make a big batch that you can return to for lunches, snacks, and dinner sides throughout the week. Of course, as any pasta salad lover can attest to, not all pasta salads are created equal. Some soar in flavor, while others don't quite hit the mark. 
Featuring our ever-so popular garlic flavor, this bright and delicious pasta salad is a crowd pleaser and can easily be made in advance to make any gathering that much more enjoyable.
Bickford's Vegan Italian Pasta Salad
Ingredients
For Dressing:
¾ cup olive oil
¼ cup red wine vinegar
1 TBSP Bickford Garlic Flavor
2 tsp TBSP Italian Seasoning
1 tsp salt
½ tsp black pepper
3 TBSP grated Parmesan cheese (optional)
For Salad:
1 (16 oz) package rotini or penne pasta
1 package grape or cherry tomatoes, halved
1 yellow bell pepper, chopped
1 red onion, chopped
1 large cucumber, cut lengthwise twice then sliced
1 cup broccoli florets
1 cup black olives, pitted and sliced
Instructions
Cook pasta according to package instructions
Add all ingredients except dressing to a serving bowl and toss to combine.
Add dressing ingredients to a shaker jar or cruet and mix.
If serving immediately, add dressing and toss to coat. If serving later, add dressing just before serving.
Feeling ambitious to try your hand at another pasta salad, side dish, or main dish? Whatever you create, let us help you make the flavor irresistible. Explore our all-natural, certified Kosher vegan flavors: Shop Vegan Flavors.
Photo by jeffreyw - Mmm... Pasta salad with olives and caper berries. Uploaded by Fæ, CC BY 2.0, https://commons.wikimedia.org/w/index.php?curid=23120515