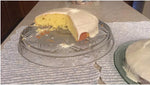 Featuring Bickford Pure Vanilla and Bickford Lemon Flavor

Receipe submitted by Patty Penca, Painesville, Ohio
Ingredients

For Cake:
1 box white cake mix
1 cup all purpose flour
1 cup granulated sugar
1 box lemon instant pudding
1/2 tsp. salt
4 eggs
1 1/3 cup water
2 tbs. butter, melted
1 cup sour cream
1 tsp. Bickford Pure Vanilla
1-2 tsp. Bickford Lemon Flavor
For Frosting:
Instructions
Mix all cake ingredients for 2 minutes.  Scrape bowl and mix for an additional minute.  Pour into greased and floured cake pan.  Bake at 325 degrees.  Cake is done when a toothpick has some crumbs clinging to it.  While cake is cooling, mix lemon pie filling and 1 tsp. of Bickford Lemon Flavor.  Frost cake with pie filling.  Cover and refrigerate.