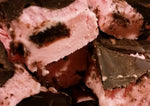 If you're a fan of homemade fudge, you're going to flip over this dark chocolate cherry amaretto fudge recipe. Smooth, creamy, and delicious - this amaretto chocolate cherry fudge sweet treat is the perfect grown-up dessert.

Why this amaretto chocolate cherry fudge recipe?
Infused with a hint of our premium, all-natural amaretto flavoring, it's a rich and decadent take on an old dessert staple.
The chocolate in this recipe is rich without being overwhelming, and the amaretto perfectly complements the cherry undertones and ensures that your fudge isn't too sweet.
This is a great recipe for any time of year.
Simply add red food coloring to make it a cheery Christmas treat or green food coloring to make it a perfect St. Patrick's Day delight. You can even add orange food coloring for a different Halloween party dessert, making this a versatile recipe for any occasion.
Here's how to make this chocolate amaretto cherry fudge recipe with our delicious amaretto flavoring:
Ingredients
2 1/2 cups white chocolate
7 oz jar marshmallow fluff
1/2 tsp (plus a few drops extra, if desired) Bickford Amaretto Flavoring
3/4 cup butter
1 cup sugar
3/4 cup heavy cream
pinch of salt
1 1/2 TBSP cherry flavored gelatin
3/4 cup dried cherries
10 oz dark chocolate, melted
Instructions
Line a 9 inch square pan with parchment paper and set aside.
In a mixing bowl, add white chocolate, marshmallow fluff, and Bickford Amaretto Flavor. Set aside.
In a large saucepan, melt butter with sugar, cream and a pinch of salt. Bring to a boil over medium high heat. Add 1 1/2 TBSP cherry gelatin boil for 5 minutes. Remove from heat and pour hot mixture over the white chocolate and marshmallow fluff in the mixing bowl. Beat with a whisk until chocolate is melted and the fudge is smooth and creamy. Fold in dried cherries then pour the fudge into the parchment lined square pan.
Melt dark chocolate and (optionally) stir in a few drops of Bickford Amaretto Flavor and then spread over the fudge.
Refrigerate for 4 hours or overnight. Cut into squares.
Bickford's Premium, All-Natural Flavors in this Recipe
All-Natural Amaretto Flavoring

Bickford's amaretto flavoring is sweet and nutty, making it the perfect addition to so many recipes. Outside of this amaretto chocolate cherry fudge recipe, our amaretto flavoring is an essential addition to any well-stocked kitchen and appears in countless baking recipes and even cocktail concoctions. Needless to say, it's extremely versatile.
Why use amaretto flavoring instead of traditional Italian liqueur, or a variation of it? Amaretto flavoring replaces the sometimes inconvenient ingredient of traditional Italian liqueur and delivers more flavor. Additionally, when using this flavoring as opposed to an alcohol, you're avoiding unnecessary sugars without losing any of the flavor. 
You can find our amaretto flavoring in cookies and cakes, coffee recipes and ice cream creations. It's great in everything from a classic Italian ricotta almond cake to almond shaved ice, marzipan and, of course, amaretti cookies.

This flavoring is also the perfect complement to a shot of espresso, glass of amaro, or even fresh churned gelato. You can make amaretti muffins and bring the mesmerizing smells of an Italian bakery to your own kitchen.

While amaretto can sometimes be considered as overly sweet, the lovely nutty notes shine when added to a digestif or used in a cocktail with spicy, bold flavors for balance.

Try it instead of simple syrup in an old-fashioned or add a shot to your evening tea, latte, or espresso martini.
If You Buy Bickford's Amaretto Flavoring, You Could Also Use It In:
Amaretto Fruit Dip Recipe
If you love the taste of amaretto, then this dip is the treat you're looking for. It's creamy and cool and has a slightly citrus flavor that pairs well with berries.
Additional Sweet Treat Recipes You May Enjoy
Easy Gluten Free Dessert Recipe for Ice Cream Sandwiches
You don't have to wait for Valentine's Day to make these delicate ice cream treats. They're the perfect dessert for any occasion and can be easily whipped up whenever you're in the mood!

Orange Custard Recipe
This zesty orange custard recipe is the perfect way to add a tangy treat to your day. The creamy custard and bright orange flavoring are the combination you didn't even know you needed, but can never forget once you taste it.

Mint Cream Brownie Recipe
Watch these fudgy, homemade mint brownies disappear at any party or get together you take them to. It's like they're a magical chocolate treat!

Creamsicle Fudge Recipe
Creamsicle fudge is an amazing, sweet sensation for any occasion. This nostalgic flavor makes a fantastic homemade gift or a tasty snack for any time of year.

Tiramisu Recipe
When done properly, this classic tiramisu can be a transcendent experience. A creamy dessert of espresso-soaked ladyfingers surrounded by lightly sweetened whipped cream and a rich mascarpone, it's the ideal way to end a meal.

Cotton Candy Ice Cream Recipe
Take a trip back to childhood by cooling off with a scoop of this cotton candy ice cream. This fantastic frozen treat will keep everyone coming back for more!

Fruit Pizza Recipe
Easy to make and simple to serve, this fruit pizza recipe delivers a burst of freshness in every bite. The sweetened cream cheese and fruit topping make this dessert a flavorful treat for any occasion!