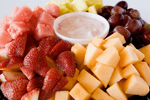 Ingredients:
16 ozs.  Whip topping, thawed in refrigerator

3⅜ ozs. Lemon Jello Instant Pudding/Pie Filling

8 ozs. sour cream

3 tsp. Bickford Amaretto Flavor
Directions:
 Gently whisk together sour cream and Bickford Amaretto Flavor in a medium sized bowl.  Stir in instant pudding mix. Gently but thoroughly stir in Cool Whip.
Cover and refrigerate several hours or overnight to combine flavors. Serve with sliced fresh fruit.
Photo credit: By Marisa DeMeglio from NYC, USA - Flickr, CC BY 2.0, https://commons.wikimedia.org/w/index.php?curid=690378