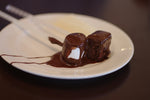 Ingredients:
1.5 cups half-and-half
1 cup heavy cream
1.5 pounds bittersweet or semi-sweet chocolate, finely chopped
3 TBSP Bickford Hazelnut Flavor
(Optional) 1/4 cup chopped toasted hazelnuts
Instructions:
In 2 quart heavy saucepan, heat half-and-half and cream over low heat until bubbles form on the edges of the pan. Add chocolate, 1/2 cup at a time, whisking constantly until chocolate is melted and blended with the cream. Remove from heat, add Bickford Hazelnut flavor and stir. Pour immediately into fondue pot or chafing dish.
Serve with choice of dippers, such as angel food cake, pound cake, graham crackers, brownies, marshmallows, strawberries, orange slices, or pineapple.