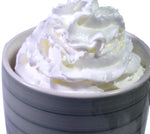 Ingredients:   16 oz. (1 pint)  heavy whipping cream 5 tbs granulated sugar 1 tsp. Bickford Flavors Grand Marnier 1 tsp Bickford Flavors Orange Directions:   Mix all ingredients together and whip until stiff.  Serve on top of hot chocolate.
---
  Ingredients: 1 cup heavy cream  1 tsp. sugar 2 tsp. Bickford Flavors Cheesecake   Directions:   In the bowl of a stand mixer fitted with the whisk attachment, combine all ingredients.  Whisk until soft peaks form.  Store in airtight container and keep refrigerated.  Top hot cocoa, fresh fruit or ice cream and enjoy.
---
'Tis the season for inspiration and we're feeling inspired by our peppermint flavors. These sugar cookies look both simple and decadent. Click the pin and give them a try. Check us out on Facebook to tell us how they were - using our flavors.