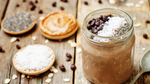 Looking for an overnight oats recipe that's vegan? Featuring Bickford's premium peanut butter and pure vanilla flavorings, see how to make this delicious healthy overnight oats recipe.
---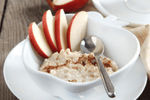 Ingredients: 2 sliced apples, 1/3 c brown sugar, 1 tsp Bickford Flavors Apple Cinnamon 2 c of oats 4 c water   Directions: In bottom of slow cooker mix apples, brown sugar and apple cinnamon flavor.  Spread into a single layer and add oats then water on top.  Do not stir.  Cook on low overnight for 8-9 hours.      
---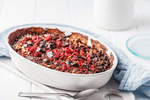 Ingredients: 2 cups rolled oats  1/3 c brown sugar + 1 tbs for top 1 tsp baking powder 1 tsp Bickford Flavors Cinnamon 1/2 tsp salt 1 c raspberries (Or, try strawberries!) 1/3 c blueberries 1/2 c chocolate (we like mini chocolate chips, but any type of chocolate chunk will work) 2 c milk  1 large egg 3 tbs butter, melted 2 tsp Bickford Flavors Pure Vanilla 1 ripe banana, peeled, 1/2-inch slices (optional)   Directions:   Preheat oven to 375°F and generously spray the inside of a 10-1/2 by 7 inch baking dish with cooking spray and place on a...