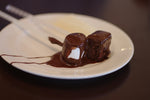 Ingredients: 1.5 cups half-and-half 1 cup heavy cream 1.5 pounds bittersweet or semi-sweet chocolate, finely chopped 3 TBSP Bickford Hazelnut Flavor (Optional) 1/4 cup chopped toasted hazelnuts Instructions: In 2 quart heavy saucepan, heat half-and-half and cream over low heat until bubbles form on the edges of the pan. Add chocolate, 1/2 cup at a time, whisking constantly until chocolate is melted and blended with the cream. Remove from heat, add Bickford Hazelnut flavor and stir. Pour immediately into fondue pot or chafing dish. Serve with choice of dippers, such as angel food cake, pound cake, graham crackers, brownies, marshmallows,...
---
Ingredients:   2 cups (1-12 oz. package) semisweet chocolate, melted 1/2 cup heavy cream 2 teaspoons Bickford's Orange Flavor Pinch of salt 2 tablespoons honey 8 teaspoons (1 fl. oz.) Bickford's Grand Marnier Flavor Dipping suggestions: Assorted fresh fruit, cut into bite-sized pieces Ladyfingers, cut into bite-sized pieces Pound cake, cut into bite-sized pieces Miniature or regular-sized marshmallows French bread, cut into bite-sized pieces Melt the chocolate in a double boiler and keep warm. In a separate saucepan, bring the heavy cream, Bickford's Orange Flavor, Bickford's Grand Marnier Flavor, salt and honey to a simmer. Remove from the heat and...
---
Ingredients:   8 ounces Gruyere cheese 4 ounces Swiss cheese 1 tbsp cornstarch 5 ounces Brie cheese 1 cup white wine 3 tbsp Bickford Champagne Flavor ½ tsp Bickford Almond Flavor Dash grated nutmeg (For dipping: prepare apple slices, cubes of French bread)   Directions:   Shred Gruyere and Swiss cheeses using a hand grater (be sure to use natural, aged cheeses, not pasteurized processed forms of either). Toss together in a medium mixing bowl with the cornstarch. Cut rind off Brie and cut the soft cheese into small cubes.  Heat white wine and Bickford Champagne Flavor in a heavy,...