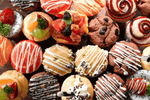 Did you know the practice of baking goes back thousands of years? The ancient Egyptians developed more than 50 kinds of bread (including sourdough!) all the way back in 2600 BC!
But this age-old art always has room for new innovation—are you up on what's trending in the industry? Whether you're churning out industrial-scale products across the country or baking artisan treats on the local level, it pays to be in the know (and use the best flavors the industry has to offer!).
Through a
wholesale partnership with Bickford Flavors
, you're getting flavors that are:
Never suspended in alcohol (with the exception of Pure Vanilla extract)
Suspended in a water or oil base
Highly heat stable
Formulated to be stronger and more concentrated than other flavoring methods
Free of additional salt and sugar
Our flavors are great in a whole range of baked goods, including:
Pastries
Cakes
Breads
Cookies
Batters and frostings of all kinds
And more!
Learn more about our services for a range of bakery wholesale clients.

Here are some current trends to consider for your business:
It Still Pays to Be Sustainable
When it comes to baked goods, we already know that Gen Z prefers organic, natural, and authentic foods and flavorings and are concerned both for their own health and wellness and for that of the environment.

Many buyers in this day and age simply won't buy products with a long list of incomprehensible ingredients and additives. Bake Magazine recently reported that now "more than ever before, consumers are conscious about their health and wellness1."

To meet the demands of Gen Z, Bickfords offers only all-natural, premium baking flavors and extracts that are derived from high-quality sources. Except in the case of pure vanilla (it's required by law), we suspend our products in either water or oil-soluble bases—these are superior carriers to alcohol, because they don't evaporate or "bake out" as rapidly .

And for a wide variety of recipe formulation options, we offer a range of flavors and their much stronger counterpart, extracts.

Learn about the difference between baking flavors and extracts.

In addition to clean labeling and ingredients, we've worked with bakeries of all sizes to develop flavors for products geared toward a wide range of diets and lifestyles, including:
Kosher
Gluten free
Keto (low carb)
Vegan
And more!
Want to hear more on winning back customers who gave up baked goods and sweets?
Embrace the Apothecary Aesthetic
Who doesn't want to bring the garden to their kitchen—especially during Summertime!

Social media is where many trends start, especially in the fast-moving world of food. Tasting table recently wrote about a baking trend that's gaining traction on Pinterest: "the apothecary aesthetic.2" It's a celebration of all things homegrown that embraces the yesteryear vibes of flowers and herbs, including searches like "sage green cupcakes" and "daisy cupcakes."

Bickford products that fit with the apothecary aesthetic include:
To really take your products in a garden-forward direction, we even offer liquid chlorophyll—the pigment that gives plants their green color and plays a role in keeping them healthy.

Want to make your recipes go viral? Here are the takeaways from TikTok Pink Sauce.
Unconventional Flavor Pairings
Apple pie and or blueberry scones are classics for a reason. But sometimes it's good to surprise and delight customers by going in a more unconventional direction.

Plastic Container City's Top Bakery Trends list includes both sweet and spicy and bold flavor combinations including apple cider chai, cinnamon-citrus peel, and spiced fig honey.3

Check our guide to unique, unexpected flavor pairings.

Bickford's 200+ flavors can let your culinary imagination run wild! Here are a few ideas for unconventional flavor combinations:
Learn more about Bickford's best flavor extracts for baking.
Is 2023 the year of the Muffin?
Supermarket Perimeter recently covered a trending item that may surprise you: the humble muffin.4 Millennials, both with young families and those raising teens, have taken a liking to them as have Gen Z (with a special affinity for chocolate chip muffins).

Bickford offers a wide range of flavors great for all kinds of muffins, including:
Looking for recipe inspiration? Check out our simple, delectable recipes for raspberry cheesecake muffins or lemon blueberry freezer muffins today!
Find the Baking Flavors that Will Resonate
A wide range of bakeries and baking businesses—including home bakers, wholesalers, manufacturers, retailers, distributors, food service, and caterers—depend on Bickford's flavor extracts for baking to create their best-selling goods.

Our wholesale partners can enjoy:
Preferred pricing
No minimum order requirement after one gallon
Faster than normal turnaround times
If you'd like to join with Bickford or learn more about a partnership, get started today by downloading our wholesale business verification form.

Learn More | Download Form
Resources:
1Baking industry to focus on sustainability in 2023. Accessed July 22, 2023. https://www.bakemag.com/articles/16955-baking-industry-to-focus-on-sustainability-in-2023
2Pinterest Is Predicting This Adorable Baking Trend Will Take Off In 2023. Accessed July 22, 2023. https://www.tastingtable.com/1128783/pinterest-is-predicting-this-adorable-baking-trend-will-take-off-in-2023/
3Top Bakery Trends in 2023: The Next Big Thing for Foodies. Accessed July 22, 2023. https://plasticcontainercity.com/blog/post/top-bakery-trends-in-2023-the-next-big-thing-for-foodies
42023 baking trends: consumers' flavor, packaging preferences. Accessed July 22, 2023. https://www.supermarketperimeter.com/articles/9310-2023-baking-trends-consumers-flavor-packaging-preferences