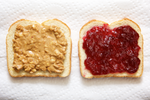 Chocolate and coffee; garlic and onions; tomatoes and mozzarella. Certain food pairings have long since been their own yin and yang in the culinary world.

The same is true for flavor pairings. Some pairings are destined to end up together, like strawberry flavoring and banana flavoring or lemon flavoring and lime flavoring.

So, why do certain flavor pairings work? Can we create new pairings? Which flavors are best for your applications?
The Science of Flavor: Why Certain Flavor Pairings Work
According to the flavor-pairing theory - a relatively new area of flavor research - foods that share flavor compounds are likely to go together. The flavor-pairing theory also suggests that the more flavor compounds two foods or flavorings share, the more likely they are to successfully coalesce in cooking, baking, brewing, and so on.1

Did you know there's a flavor map that connects foods with overlapping components? The Scientific American used the flavor-pairing theory to create the flavor map. It shows that some foods share a lot of compounds with other foods while others don't and are more difficult to pair.

If you haven't already seen this map, take a look and see if it sparks any inspiration for your applications. It should be noted that just because certain foods share compounds, that doesn't necessarily guarantee that a food combination will taste good. But hopefully the pairings on this map trigger curiosity and serve as a good place to start as you experiment with flavorings, pairings, ingredients, and new applications.2

As you create new pairings or fine-tune tried and true ones, consider aligning your flavor work with current flavor trends to help your application stand out to more consumers.
Brief Overview of 2022 Flavor Trends for Food and Beverage
As a food or beverage maker or manufacturer, you want to know which flavor profiles are trending this year as you plan new applications and new taste experiences.
67% of consumers cited flavor as a key attribute for sweet baked goods.
72% cited flavor as important for ice cream and frozen treats.
Adventurous and exciting flavors are driving product innovation in snack foods.
Flavors are the most important aspect of beverages for most consumers, including 70% of RTD tea drinkers and 56% of carbonated soft drink consumers.3
The flavors of 2022 are still being influenced by the pandemic and the unpredictability that has unfolded from its onset. Here are the current trends this year and what consumers are looking for:

Familiar Favorites
Consumers will still be crazy about flavors like chocolate, fresh strawberry, vanilla, and raspberry. While we'll discuss new, exciting flavors and combinations in the next section, keep in mind that consumers still enjoy a sense of comfort and familiarity from time to time.

Seasonal Flavors
There is an opportunity for seasonal flavors to be revamped this year to deliver comfort and indulgence to consumers. Think upscale twists on classic flavors like watermelon, maple, and peppermint.

New Flavors & Flavor Pairings
While consumers will want to stay somewhat close to the recognizable, pairing familiar flavors with a flavor that offers a unique twist will help them step out of their comfort zone and fall in love with something new.

To achieve a surprising new combination, think of a beloved mainstream flavor combined with an emerging taste.
Take a look at our suggested, all-natural flavor pairings below:
The Ultimate Flavor Pairings
Fruit Pairings
Kiwi Watermelon
Ah, the delectable combination of kiwi and watermelon flavorings. This unique pairing can elevate any application, from savory to sweet. Whether you're looking to craft a killer smoothie, delicious salsa, or distinct cocktail creation, a flavoring with sweet overtones and a tangy punch is the way to go. The subtle citrus notes and refreshing depth of Bickford's kiwi and watermelon flavorings help create a sweet, juicy flavor option consumers will love.
Pear Watermelon
Combining Bickford's pear and watermelon flavorings work elegantly in dishes ranging from Middle Eastern-themed tagine lamb to wonderfully roasted brussel sprouts. This refreshingly sweet and succulent combination also works great in smoothies, salad dressings, and protein marinades. You can even try pairing it with flavorful blue cheese on a crostini or adding it to your favorite desserts like pies, crumbles, cakes, and more.
Blackberry Coconut
Find inspiration with our delicious flavor combo of blackberry and coconut. These distinct and versatile flavorings can help you seriously expand your repertoire while adding a tropical touch to your favorite recipes. So, whether you're looking to go savory or sweet the next time you get cooking, make the most of these flavors by adding them to the mix.
Fruit Spice Pairings
Mango Jalapeno
Try adding some sweet heat to your application by combining our zesty jalapeno and mango flavorings. From spicy salsa to muffins with a kick, this creative pairing is guaranteed to add a whole lot of sweet and spice to your products. It adds a bright and zingy flavor that is hard to compare to any other flavor option. So, whether you're crafting delicate grilled fish for tacos or a subtly sweet cornbread, this combination keeps things tasty and interesting.
Jalapeno Pineapple
Bickford's delicately sweet pineapple flavoring, combined with our jalapeno flavor, works wonderfully in both desserts and savory dishes. While the pairing may seem controversial, adding them to your application can create a culinary experience unlike any other. The big flavor and subtle heat will have people coming back time and time again. These flavors heat up summertime dinners just as easily as they accentuate comfort foods during the colder months.
Orange Chipotle
Add a flavor blast to any of your applications by combining our smokey chipotle flavoring and orange flavoring. Whether you're crafting baked goods or a savory marinade, this pairing packs a flavorful punch. This combination is truly one of the most versatile fruit and spice blends, making the combo an ideal option for products ranging from desserts to dinners to drinks and everything in between.
Ginger Lemon
Bickford's ginger flavoring is one of the most lovely, versatile flavors to work with. Combining this with our lemon flavoring is the perfect way to add a little heat, a little tang, and an intense flavor to sweet and savory applications alike. While a number of recipes call for a splash of lemon or ginger flavoring alone, finding ways to include both allows you to showcase how spicy and tart can shine bright together.
Fruit Nut Pairings
Peanut Butter Grape
From sweet desserts to savory suppers, combining our peanut butter and grape flavorings has become a go-to pairing. The two flavors lend so much richness to both baked goods and main courses and even provide the perfect vessel to create a PB&J inspired treat. The grape flavoring adds subtle sweetness to irresistible savory recipes while the nuttiness of the peanut butter flavoring adds depth and richness. So, take your next creation to another level with this nostalgic flavor combo.
Peanut Butter Strawberry
Bickford's peanut butter and strawberry flavorings work together to make an ideal pair. The deep nuttiness helps to highlight the sweet notes of strawberry, creating a taste experience that livens up a wide array of applications. From smoothies to shakes, muffins to cakes, this combination can accentuate and coalesce with just about any cuisine.
Wild Cherry Pistachio
This pistachio and wild cherry flavor combination can be added to a variety of recipes. Try it in a homemade granola or added to muffins. The tart sweetness and earthy nut flavor makes them as good in savory foods as they are in a homemade jam. Explore the wide world of pistachio and orange with any of your applications that you're looking to highlight with that oh-so-delicious tangy nuttiness.
Floral Tones
Coffee Lavender
Combining our coffee and lavender flavorings is the culinary dynamic duo you may be overlooking. Just a splash of this powerful combo deepens and enhances products and dishes by adding fragrant floral notes and earthy undertones. So, take your decadent chocolate desserts, or even your savory dinners, to the next level with this unique flavor collaboration.
Honey Lavender
Whether you're using this combo as an addition to your recipes or a main ingredient, our lavender and honey flavors lend a subtle floral flavor and delicate sweetness to any dish. Just remember that a little lavender goes a long way. This pairing is great for cocktails, essential in glazes, and always adds depth to salad dressings and baked treats.
Unique & Must-Try Pairings
Blueberry Lemonade
Our blueberry and lemonade flavorings combine to create an amazing pairing in so many applications - from muffins and cakes to ice cream and dessert sauces and much more. These flavor options are as indispensable to everyday cooking and creating and even more versatile when used together. Whether making a delicate smoothie or even a bright pasta, there are so many options to include in your recipes that the potential is nearly limitless.
Chocolate Orange
Combining our orange and chocolate flavorings is truly one of the most creative ways to add a citrus sweet kiss to your product line. From citrusy desserts to dinners with deep, rich chocolate notes, pairing orange and chocolate is a unique way to fulfill cocoa cravings. Whether you're looking to perfect a simple chocolate cake or take a risk with decadent chocolate and citrus cassata, using this combo is the way to go.
Birthday Cake Marshmallow
Find a way to celebrate every special day with our elegant and delicious birthday cake and marshmallow flavorings. That's right, you can make an unforgettable, amazing dessert that rivals all the favorite expensive baked goods when pairing these two delicately sweet flavor treats. Use it in classic cakes as well as more creative recipes to suit your product line and consumers.
Maple Pecan
Maple pecan is the new flavor combo for any season. This combination has become a fan favorite in everything from lattes to scones. There is no denying it is a classic, heartwarming flavor with a taste explosion that takes place any time it's incorporated into an application. It is such a versatile combination that it absolutely deserves a spot in your product line throughout the entire year.
Custom Flavor Pairing Extracts at Wholesale Quantities & Prices
Most flavoring companies can't beat our wholesale program.

Bickford Flavors is a team of well-established flavor experts, providing only the highest quality flavor extracts for over 100 years. With vast experience, we have the ability to meet your specific flavoring needs.

We use the highest quality, all-natural ingredients to create unsurpassed flavor extracts that don't just complete your products, but they truly enhance them.

When you partner with Bickford and become a part of our wholesale program, you benefit from:

Preferred pricing
No minimum order requirement after one gallon
Faster than normal turnaround times – we're talking same day processing and shipping on most orders

For custom flavors, we work hard to flavor match within a week. Once you approve the flavor, orders are processed and shipped the same business day (if the order is received before 12:00 p.m. EST).

We're committed to supporting you, your growing business, and your ever-expanding product line with premium flavors.

Learn more about our wholesale and sample program or, to get started today, download our wholesale business verification form:
Bickford's Wholesale Program
Download Wholesale Business Verification Form
Need a custom flavor for your application? We're experts in creating one-of-a-kind flavors:
Call to Discuss Creating Custom Flavors
Have questions? Contact us today or call 440-494-7777. Toll free at 800-283- 8322.

Resources:
1ResearchGate. Flavor network and the principles of food pairing. Accessed August 9, 2022. https://www.researchgate.net/publication/51959358_Flavor_network_and_the_principles_of_food_pairing.
2WellTuned. The Science of Taste: Why Some Foods Taste Good Together. Accessed August 9, 2022. https://bcbstwelltuned.com/2018/05/29/the-science-of-taste-why-some-foods-taste-good-together/.
3Food Engineering Magazine. Flavor trends for 2022. Accessed August 9, 2022. https://www.foodengineeringmag.com/articles/100210-flavor-trends-for-2022.