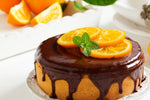 From the grove to the grocery store, oranges remain one of America's most beloved and enduring flavors in products like juice, desserts, savory meals, or just the fruit itself! Available year-round in the U.S. and consistently rated as one of America's top beverage flavors, oranges are a great choice for that new flavor creation your customers or guests will absolutely love.

Learn more about creating your next hit beverage flavoring.
Orange Flavor Basics
Oranges have a taste that is best described as having both sweet and tart elements, making it extremely versatile in the kitchen. When cooking with oranges, nothing is wasted—the sweet juice, the delicious flesh, and the intensely flavored, oil-packed rind can add beautiful notes to any new dish. The rind—usually much more bitter than the inside—is usually grated for zest.

Common types of oranges in the U.S. include:
Navel oranges
Valencia oranges
Blood oranges
Mandarin oranges
Clementines
Looking to access reliable, all-natural orange flavor without planting your own orchard? Bickford Flavors can help.

We offer both water and oil-soluble standard orange flavors, as well as other varieties like mandarin and blood orange.
Formulated to be stronger and more versatile than other flavoring methods, the sweet, aromatic taste of Bickford's orange peel flavor can brighten up your baked good, marinade, or confection.
Food science tells us that we eat with our eyes first, and that visual cues are a big part of flavor. Our orange color can help your product look the part.
What Are Some Flavors That Pair Well With Orange?
Perhaps the best thing about oranges? They pair beautifully with a whole range of foods and flavors!

Citrus fruits have a range of acidity and sweetness profiles, making them great candidates to combine with each other. Orange's natural sweetness pairs perfectly with flavors like grapefruit, lemon, and lime.
And for a general citrus profile with just the right blend of sweet-sour that lets other ingredients shine, try our citrus mountain oil.
Orange goes very well with a wide range of other fruits. For example, its sweetness balances the tart of pomegranate, while adding depth when combined with mangoes. Give the following Bickford fruit flavors a try alongside orange:
The delicious combinations don't end with fruit—orange goes well with a variety of aromatics and spices. An orange-ginger combination makes for a sweet and spicy effect, and spices like cinnamon and anise have a nostalgic taste when combined with oranges.
And who doesn't love mimosas? Our mimosa flavor can add an appealing spring brunch vibe to your frosting, whipped cream, baked goods, or beverages.
Orange Flavor Pairing Recipes
Whether you're in the commercial test kitchen or your home kitchen, the possibilities for using orange to its full potential are endless.
Desserts
If you're a dessert person, Bickford has a variety of sweet treats and baked goods that take advantage of our delectable orange flavor:
For a scrumptious all-purpose dessert topping, try our orange Grand Marnier whipped cream. Our Grand Marnier flavor provides the essence of the orange-flavored cognac liqueur recognized the world over.
Savory Dishes 
Though oranges tend to be sweet, there are a ton of ways to use them in savory dishes. Our blood orange grilled scallops dish uses simple, delicious seafood over high heat and our chicken a l'orange combines our orange and ginger flavors, orange juice, soy sauce, and corn syrup to create a flavor-packed sauce.
Beverages
If you're looking for drink ideas, check out our frozen fruit slush with orange juice concentrate and our fruit flavors, or our pumpkin beermosa.

We partner with a variety of breweries, wineries, and distilleries and have a range of flavors—including orange and mango orange—approved for use in alcoholic beverages.

View Bickford's list of TTB-approved flavors.
Sweets
Orange flavoring also makes candy downright addictive. Try our chocolate covered candy creams to see what we mean!

Learn more about using our oil-soluble flavors in candy.
If you're a food or beverage producer or wholesaler looking to stand out from the competition, it's advantageous to work with a company who has been providing the highest quality products and services to their customers for over a century.

Bickford's wholesale program delivers:
Preferred pricing
No minimum order requirement after one gallon
Faster than normal turnaround times
To get started, download our business verification form, give us a call at 440-494-7777, or email us at orders@bickfordflavors.com. We're ready to provide you with the best flavors the industry has to offer.