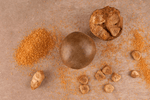 As millions of Americans know, the keto lifestyle has major advantages. The high-fat, low-carb phenomenon can take inches off your waistline and leave you both feeling and looking better.
The major downside? A pretty serious reduction in sugar consumption, meaning many of your favorite sweet treats are off the table.
Luckily, there are many flavors and extracts that can deliver the essence of sweetness and allow you to indulge while maintaining your keto diet.
In this article we answer:
Which Are the Best Sweeteners for Keto?
Can I Use Flavors and Extracts on a Keto Diet?
Which Flavors Work Best as Sweetener Alternatives?
Which Are the Best Sweeteners for Keto?
These days, there's an ever-growing supply of both natural and artificial keto-friendly sweeteners that are free or nearly free of sugar.

Sweeteners that are safe for a keto diet according to heathline1 are:


Stevia: A natural sweetener derived from the Stevia rebaudiana plant, stevia contains no calories and has no effect on blood sugar. Because it's many times sweeter than sugar, foods require much less stevia to achieve the same sweetness level.
Monk fruit: Monk fruit is a natural sweetener derived from the Chinese monk fruit that is between 100 and 250 times sweeter than sugar. Monk fruit has neither calories or carbs and contains antioxidant compounds called mogrosides.
Sucralose: An artificial sweetener, sucralose is not metabolized by the body, passing through undigested and resulting in zero carbs or calories. The popular sweetener Splenda is sucralose-based, though it does contain about one gram of carbs per packet.
Erythritol: Erythritol is a corn-based sugar alcohol, a class of compounds which stimulate the tongue's taste receptors. There is some evidence that erythritol may actually help to lower blood sugar levels in the body.
These sweeteners are low or no carb, but it doesn't mean they should be eaten in unlimited amounts! Some have been associated with digestive problems, upset stomach, and other issues when consumed in large quantities.

Common sugar alternatives like honey, agave, and maple syrup are high in carbs or fructose and should be avoided when adhering to a keto program.
And like with any diet program, it's a good idea to take the time to read the labels on the items you're buying—just because a food includes one of these keto-friendly sweeteners, it doesn't mean there aren't other, non keto-friendly ingredients.
Can I Use Flavors and Extracts on a Keto Diet?
When you adopt the keto lifestyle, a little bit of substitution and some help from the right flavors are all that is required to eat your favorite foods. Bickford's flavors are formulated to be stronger and more versatile than those of our competitors, and they contain no added sugar—perfect for keto.

Have a sweet tooth? Alongside ingredients like eggs, full-fat dairy, nut flours, and low carb sweeteners, all-natural flavorings like apple caramel and butterscotch can help you achieve the flavors you love in desserts without all the carbs.
Learn more about using Bickford flavors for keto desserts, including avocado ice cream and sugar-free cheesecake.
For many, a cocktail is a perfect way to unwind after work or during the weekend. Bickford Flavors offers both tequila and rum flavorings, which can be added to your favorite low-sugar cocktail or mocktail.
Check out our guide to keto-friendly cocktails (or mocktails).
If you're a food professional looking to re-engage with those who have adopted keto, we can help you enhance or adjust your flavor profiles and attract new and old customers.
Learn more about bringing back customers who have ditched sweet treats.
Which Flavors Work Best as Sweetener Alternatives?
Always on the leading edge of flavor innovation, Bickford offers a variety of flavors that can empart the tastes you or your customers are looking for while keeping it low-carb.

For savory dishes or ice cream, there's nothing like the rich taste of maple syrup. Our maple flavoring can add a delicious edge to keto-friendly foods such as butternut squash puree and salmon marinade.
Bickford's salted caramel flavoring is great for adding a dash of childhood nostalgia to your morning coffee.
And vanilla—arguably the most common flavor extract—is good for more than just cookies and cakes! Try adding it to a wine spritzer or combining it in a saucepan with water, cinnamon flavor, and orange slices to bring a cozy aroma to your home.
If you're looking to serve an increasingly health-conscious customer base, look to our flavor experts. Learn more about meeting the flavor preferences of health enthusiasts.
Our growing range of flavors and extracts can serve a variety of diets, from keto to kosher. As experienced wholesale partners, we're dedicated to providing you with the best flavorings, personal service, and value.
Reach out to us today to learn more.

Resources:
1healthline. The 6 Best Sweeteners on a Low-Carb Keto Diet (And 6 to Avoid). Accessed April 6, 2022. https://www.healthline.com/nutrition/keto-sweeteners