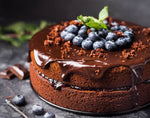 For consumers who have a serious sweet tooth, going keto may seem like a tough lifestyle to remain committed to. But, as many keto-aligned individuals quickly come to realize, even the most ardent dessert lovers can fulfill their sweet desire and still remain in ketosis.

As a dessert or ice cream maker or manufacturer, expanding your product line and offerings to feature keto-friendly desserts can draw in a whole new group of consumers and customers.

Here's how you can enable a person to satisfy their sugar cravings while helping them stick to their macros.
Keto Diet for Beginners & the Seasoned: They Still Want to Satisfy the Sweet Tooth
The keto lifestyle, which refers to the low carb and high fat ketogenic dietary approach, is fundamentally rooted in the idea that depleting the body of carbohydrates enables a person to force their body to burn fat for fuel.

This maximizes the weight loss approach by ensuring that an individual restricts their carbohydrate intake, forcing the fat to be broken down by the liver, which, in turn, produces ketones to fuel the body.

While this all seems rather complicated, the concept of avoiding carbs to increase weight loss is a fairly common idea.
The key is finding a way to maintain this dietary lifestyle while also satisfying the sweet tooth that we all have experienced at some time or other.

Luckily, for those choosing to embrace the keto lifestyle, finding a way to adhere to the diet's recommendations and enjoying deliciously crafted desserts is largely achievable.

By incorporating ingredients like eggs, full-fat dairy, nut flours, low carb sweeteners and all-natural flavorings, a person can truly enjoy dessert without having to sacrifice flavor.
For Our Bakers: Do You Want to Start Making Keto Desserts?
Appealing to consumers who are looking for healthier dessert options, or options tailored toward a specific dietary approach – like keto, is imperative in the ever-evolving consumer-led landscape of food preferences and trends.

From large batch offerings to small-batch specialty options, finding a way to incorporate clean and healthy ingredients that adhere to a keto dietary plan is an excellent way to maintain consistent business growth while driving new business potential.

The key is in maintaining the integrity of your flavor and making sure to not sacrifice the dynamic essence of your baked goods.
This can be achieved by focusing on high quality ingredients and incorporating the highest quality, all-natural flavor extracts to everything you create.

With premium flavorings, your customers will be so lost in the depth of your baked creations that they will not even notice that they are tailored for a keto diet.

Some excellent ideas include:

Keto Sugar-Free Cheesecake
Like a blank slate, this dessert option enables bakers of all shapes and sizes to offer a velvety cake option that will satisfy any sweet tooth.
All-natural flavoring options like apple caramel and bacon work to amplify the potential that a dessert of this nature can have, ensuring that the end result will wow any consumer who tastes the final product.
Keto Chocolate Cake
A chocolate cake keto-friendly dessert is overflowing with potential and leaves the door open to however you are inspired to interpret the finished offering.
Using the highest quality flavoring options, like blackberry, boysenberry or caramel, takes this gooey baked good and sets it to another flavor level.
For Our Ice Cream Makers: Do You Want to Start Making Keto-Friendly Ice Cream?
Finding ways to display the delightful varieties and textures available with keto-friendly ice cream is easier than you may think.

For manufacturers, both large and small, being able to show your consumer base that keto ice cream can be just as dynamic and delicious as any other offering requires more than the best ingredients around.

It also takes the highest quality flavor extracts to truly make the product sing with delicate flavor and finesse.

By cutting out the sugar and focusing on sugar-substitutes and all-natural flavorings, achieving a premium, keto-friendly ice cream option could very well become the next big thing to hit the shelfs.

Some delicious keto ice cream ideas include:
Keto Avocado Ice Cream
Combining the smooth texture of avocado into an inventive popsicle option gives those living the keto lifestyle something truly velvety to enjoy on a hot summer day.
By adding flavor options like cheesecake, cherry, or cinnamon toast cereal, you can take this amazing creation and raise them to an entirely new level of deliciousness.
Frozen Fudge Pops
Starting with a basic keto ice cream recipe and using a simple popsicle mold, this approach to creating a sweet, icy treat is second to none.
Incorporating premium flavorings like coconut, graham cracker, or almond, take this simple dessert and elevate it to a complex indulgence that can be enjoyed by people of all ages.
Ketogenic Natural Food Flavoring Supplier: Our Commitment to Your Line of Keto Desserts, Ice Creams & More
It is our firm belief that just because a dessert is keto-friendly doesn't mean flavor has to suffer.

As a natural food flavoring supplier, we're dedicated to helping make keto desserts, dishes, and products simple and delicious.

For over 100 years, we've been formulating Bickford Flavors to meet current market demands and your specific lifestyle needs – such as keto-friendly, low-carbohydrate, gluten-free, certified kosher, no sugar added, low-calorie, low-protein, and more.

Serving households to large manufacturers, we're infusing recipes and applications with natural flavors for keto creations and helping them taste better than ever.
Partner with Bickford
Browse our entire flavoring line and select one of our premium flavors, or work with us to develop a custom flavor. We're experts in creating one-of-a-kind flavors.
Call to Discuss Creating Custom Flavors
Learn more about Bickford Flavors: