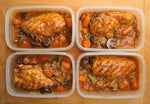 It's back-to-school season and, by now, most parents are raring to go. While the summer has been a blur of happiness, vacations, BBQ's and playdates, the time to buckle down and prepare the troops for the upcoming school year is at hand.

How are you feeling about the start of the school season? What's the hardest part of your day-to-day amidst everyone's schedule?

If it's cooking and ensuring everyone is eating a tasty, healthy, fulfilling meal, you're certainly not alone.

Planning out the coming days and weeks of rushed mornings with go-to, tasty meal plans is certainly one way to ease the meal stress and lighten everyone's load.
Make Ahead Freezer Meals that Pack Favor? It's More Than Possible
When most people think about freezer meals, something bland and tasteless probably comes to mind. While there have been plenty of examples of plain freezer meals, the days of tasteless and flavorless freezer meal options are long gone.

Incredibly tasty and flavorsome meals can be made ahead of time, placed into the freezer and come out tasting as incredible as the day you put them in there.

The key to achieving this tasty resurrection is to incorporate premium, naturally sourced flavorings throughout the cooking and preparation process.

By using flavorings that are formulated to be stronger and more versatile than other flavoring methods, you are ensuring that your food does not lose any of its essence or taste during the prep and freeze process.

Indeed, all-natural flavor extracts will endure and stand out when the meal is thawed.
Ideas for Family & Healthy Freezer Meals
To get those creative juices rolling, here are a few easy to follow recipe ideas that not only pack a ton of flavor and tastiness, but they are also relatively easy to prep and package.

Remember, the point of back-to-school meal planning is to lessen the load and make things easier to manage around the home. So, our two cents: try and avoid recipes and ideas that seem too involved or intense. The flavor will still be there in simple, easy meals, too.
Crock Pot or Instant Pot Freezer Meals
From tasty chilis to scrumptious lasagna to succulent chicken fried rice, the options that can be fully made and delivered from the crock pot or instant pot are vast.

Incorporating flavorings like bacon or merlot can intensify meals and ensure that the meals remain flavorful and delicious on whichever day they are enjoyed.

From curries to pulled pork options, there is something for everyone's palate when you meal prep with a crock pot or instant pot.
Keto or Vegan Freezer Meals
Recipes like beef barbacoa, adobo chicken with pineapple, and even gumbo may sound off limits to those adhering to a keto or vegan lifestyle.

The fact of the matter is that, with high-quality flavorings and quality ingredients, all these recipes (and more) can be made beforehand and placed into the freezer as a delicious meal-prep plan.

Flavors like maple bacon, pineapple, and marsala can add an entirely new depth of flavor to these keto and vegan recipes that will pleasantly surprise anyone who gets the pleasure of tasting them.
Whatever Meals You Whip Up, We Have the Flavors to Make It Devour-Worthy
Whichever route you decide to take when it comes to your back-to-school meal prep, it is essential to make Bickford Flavors a part of the recipe planning.

Every flavoring is created from premium, all-natural sources using our very own 100-year-old formulas – with almost all of them being certified Kosher.

Our tried and true approach enables us to specifically formulate flavors and oils that are true-to-source and free of preservatives, GMO's, synthetic dyes, unhealthy, artificial ingredients and synthetic/imitation derivatives – giving your freezer meals delicious, natural flavor boosts.
Why Choose Bickford Flavors for Your Freezer Meals (and Every Homemade Meal)?
At Bickford Flavors, we offer an extensive line of more than 200 all-natural, certified Kosher flavorings.

Our flavor extracts help give your meals the exact flavor consistency they need, and they meet various dietary desires – such as no sugar added, low-calorie, low-protein, low-carbohydrate, gluten-free, and more.

Start with a plan and adjust when necessary, but always use quality flavorings to create delicious freezer meals: