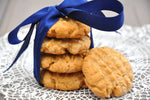 Every holiday season comes with a fresh opportunity to wow your family and friends (and even clientele and colleagues) with delectable keto-friendly recipes that pack as much taste and flavor as anything they've ever consumed.

The trick is finding the right mix of the freshest ingredients, finest accouterments, and the highest quality flavor extracts to boost your treat, dessert or cookie recipe from average to outstanding.

You can find a number of variations online for each keto recipe idea below. Once you select the one that best aligns with your keto preferences, be sure to turn to Bickford's keto flavors and extracts to amplify the flavor and give the treat a one-of-a-kind flavor twist.
Ideas for Tasty Keto Halloween Treats
Finding keto-friendly Halloween treats that are spooktacular can be an eerily tasty task.

Sticking to some tried and true keto-friendly Halloween treat recipes is a sure way to cook up a festive treat for any trickster.

Candy Pumpkin Truffles
Indulging in this chocolaty Halloween candy is a great way to celebrate in style. Using all-natural flavoring, such as Bickford's pumpkin and chocolate, will elevate this recipe to wickedly sensational.

Low-Carb Monster Cookies
These holiday treats really set themselves apart with the addition of Bickford's almond and coconut flavoring. The addition of these premium, naturally sourced flavors take this sweet, buttery treat and raise it from decent to delectable in no time flat.
Ideas for Classic Keto Thanksgiving Desserts
On a holiday like Thanksgiving, most people find themselves reflecting on things that bring them happiness and appreciation. Being able to provide a moment of true joy with a flavorful keto-friendly dessert will encourage thankful smiles from everyone around the table.

Keto Pumpkin Pie
Is it really even Thanksgiving if you don't offer a delicious pumpkin pie? Probably not; so do yourself a favor and offer this treat to anyone looking for the perfect holiday dessert.

With Bickford's all-natural vanilla and cinnamon flavors, this keto pie will not only make your day, but it will also give everyone else something new to be thankful for.

Low-carb Pecan Pie
Looking to offer something a little outside the norm on Thanksgiving? A pecan pie is the answer.

By incorporating our premium, naturally sourced butter pecan flavoring, you're going to be looking at raving fans of your baking and family members begging you to make this in the years to come.
Ideas for Delicious Keto Christmas Desserts
The most wonderful time of the year also tends to bring out the tastiest treats.

Sure, Christmas desserts tend to be all about decking the halls with bows of holly, candy cane wishes and whip cream dreams, but many are looking for healthier, keto-friendly options, too.

With these ideas, you can deliver just that with incredible flavoring and aroma.

Eggnog Pudding
This recipe takes the full flavor punch of the season, minus the alcohol. Including our high quality flavor extracts, like eggnog and champagne whipped cream, will elevate this pudding to another level entirely.

Blueberry Cheesecake Bars
This amazing dessert may just become your new favorite Christmas treat. With the velvety smoothness of Bickford's blueberry and cheesecake flavoring, the rich and creamy indulgence will have everyone who eats it singing fa la la la la, la la la la!
Ideas for Oh-So-Perfect Keto Christmas Cookies
Finding the perfect cookie recipe is no small task. It requires research and constant taste-testing (which you probably love!) to find the one that has all the rich and delicious taste and texture you could ask for.

When you do finally discover that oh-so-perfect keto cookie recipe, make sure to include the highest quality flavorings and extracts to ensure the finished product knocks the socks off anyone who gets to enjoy them.

Low-Carb Peanut Butter Cookies
Sometimes sticking with the classics is the best route to take. Find a keto-friendly peanut butter cookie recipe that's simple and straightforward – and aims to pack a ton of flavor.

In fact, let us help with the flavoring: Add our amazing, all-natural peanut butter flavoring and you'll be amazed at how this time-tested cookie takes on a whole new depth of flavor.

7-Layer Cookie Bar
A cookie bar with so much going on has a bit of everything in it. All-natural flavor extracts like coconut, walnut, caramel, almond and vanilla make this kitchen-sink-cookie perfect for Christmas (and nearly every occasion and holiday)!
Whatever Keto Treat You Make, We Have the All-Natural Keto Flavors to Make It Taste Incredible
Every Bickford flavor is created from premium, all-natural sources using our very own 100-year-old formulas; almost every flavor and extract is also certified Kosher.

Always free of preservatives, GMO's, synthetic dyes, unhealthy, artificial ingredients and synthetic/imitation derivatives – your holiday treats will taste amazing from flavorings and extracts that are true-to-source.


Looking for Other Flavors? We've Got You Covered
We offer an extensive line of more than 200 all-natural, certified Kosher flavorings.

Did you know: Our flavor extracts meet various dietary desires – such as no sugar added, low-calorie, low-protein, low-carbohydrate, gluten-free, and more.

As a natural food flavoring supplier, we're dedicated to helping make keto desserts, dishes, and products simple and delicious.