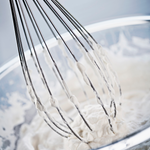 Whether you are using it to complement a lovely dessert or it is the main attraction, champagne whipped cream has so many uses. It is festive and fancy enough to be featured on the menu at a celebratory dinner, and decadent enough to make any dinner feel like a celebration.

What Occasions Can I Have It For?
Whenever you're trying to turn a regular treat into a show stopper dessert, whip out this whipped cream recipe. It is the perfect accompaniment of cheesecake, your favorite ice cream flavor or use it to top a strawberry pie or a berry cobbler.
This whipped treat is suitable for many occasions, like weddings, anniversaries, or any party that has you celebrating a milestone. It's also great for kids events...as it's completely alcohol free.

If you want your events to stand head and shoulders above the rest, consider adding this festive treat to your desserts (or beverages). It is a naturally celebratory dessert, likely to be loved and lauded by many people who come into contact with it. There really is no better way to liven up your next get together than by preparing and serving this delicate, scrumptious treat. It will not overpower the other things you are offering, it will just be a good treat unto itself.
Ingredients:
16 oz. (1 pint)  heavy whipping cream
5 tbs granulated sugar
Directions:
Mix all ingredients together and whip until stiff. Serve on top of your favorite holiday dessert.