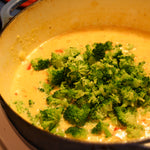 Broccoli cheddar is a timeless, classic soup that hits all the right notes: cheesy, textural, and deliciously flavored! So, why tweak it? Because it can be made a lot more flavorful and align with a keto lifestyle.

For those looking for a healthier option, or those in search of a keto broccoli soup recipe, we have one delectable soup for you that includes our premium flavorings:
Bickford's Keto Broccoli Soup Recipe
Ingredients
1/2 cup chopped red bell pepper
1/2 cup chopped onion
1/2 cup chopped celery
1/2 cup diced carrots
1 teaspoon

 

Bickford Flavors Lemon Flavor
1/2 teaspoon

 

Bickford Flavors Garlic Butter Flavor
1/4 cup melted butter
2 cups cauliflower, chopped
2 cups fresh chopped broccoli
1 1/2 cups unsweetened coconut milk
3 tablespoons all-purpose flour
1 tablespoon chopped fresh parsley
2 cups shredded Cheddar cheese
salt  & pepper to taste
Directions
In a Dutch oven or soup kettle, saute the peppers, onions, celery & carrots with the lemon and garlic butter flavors in butter until tender.
Add remaining vegetables, chicken bone broth, salt, and pepper; bring to a boil. Reduce heat; simmer covered for 15 minutes, or until the vegetables are tender.
In a separate container, slowly whisk flour with 1/2 cup of coconut milk until smooth; stir into kettle with the remaining cup of coconut milk. Bring soup to a boil; cook and stir for an additional 2 minutes. Mix in the parsley. Immediately before serving, stir in the cheese until melted. Salt & pepper to taste.
This keto broccoli cheddar soup is something else, isn't it? Feeling ambitious to try your hand at another homemade soup or chowder? Let us help you make the flavor irresistible. Explore our all-natural, certified Kosher flavors:
Shop Flavorings and Extracts for Soups
Image Credit: Flickr