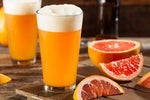 Over the past decade, the craft beer and cider industries have become rather congested. Would you agree?

We, of course, don't mean this in a negative way; the more brewers with different creative takes on beer and cider mean more variety and innovation, as you well know.

Still, as more brewmasters tout their new line of IPA's or ale's, we're all constantly in search of that one thing that we can do to our own brews and brands to step out of line and stand out from the crowd.

So, where do you go from here?
The State of the Beer and Cider Market 
In order to make a lasting impact on the beer and cider market, it is important to understand the state of affairs, your competition, and current buying trends – so you can easily make informed decisions on which flavors to pursue.

A snapshot of the market looks like this:
As of 2019, there were 8,275 craft brewers operating in the United States. This number includes microbreweries, brewpubs, taproom breweries, and regional craft breweries.

While this number is up from years past, COVID-19 has definitely already had an impact on these numbers.

The most popular craft beer style in America is the India Pale Ale (IPA)
The US currently has more than 900 cideries spread across the country
Hard cider amounts to only 1% of the total beverage market
Hard cider consumption has surged 50% in the past decade1
These types of stats provide insight into the differences facing beer and cider makers, including the competition within the given markets and the obvious potential for growth within both industries.

Adding to these insights are the actual flavors of beer and cider that consumers are currently drawn toward, which is essential knowledge to have when deciding which flavor trends to act on and incorporate into your next beverage innovation:
Allagash White has been ranked as one of the best American wheat ales in the country, and it's easy to see why. The beer is a little cloudy, a little malty; it has notes of mouth-puckering citrus and Curaçao orange peel, but it never tastes too sour; and it has a warm spice profile thanks to the addition of coriander.
Many popular hard ciders are including raspberries and blackberries, making them sweet and tart, tangy and fruity. They add a little zip to the customary flavor of hard apple cider, but are equally refreshing.
Grapefruit, and other citrus flavors, in craft brews earn a top spot because these flavors bring acidity, a floral profile, a hint of bitterness, some structure behind the fruitiness, and work wonderfully with a wide range of beer styles.
Watermelon beers have grown in popularity over the past few years. Their crisp and clean flavor have become a staple throughout the summer months, providing a break from the drab normalcy of most brews, while also blending well with wheat and blonde beer brews.
It's a Crowded Beer Market, but You're About to Start Your Own Flavor Revolution
Finding your voice (or trademark flavor) in this crowded market requires preparation and thorough research.

Understanding what people are currently buying and where the market is leaning is crucial when deciding which type of beer or cider will set you apart from the crowd and establish your product as a force to be reckoned with.

Research has shown that flavors like cherry, strawberry and lime have gained significant steam over the past few years – shifting purchasing trends and establishing a new flavor profile within both the beer and cider markets.

However, these innovative flavors would have never been realized if the craftspeople behind these flavor innovations did not step outside the norm and forge a new path.

That's why it is imperative to be both informed and brave when approaching new beverage flavorings.
Center Your Breakthrough on Flavor
As expert flavor chemists who know the flavoring side of the beer and cider industry incredibly well, we believe the key to remaining competitive in this type of market is by focusing on developing and delivering robust, one-of-a-kind beer and cider flavors.

Without question, you must attend to every detail – including the use of high-quality ingredients, like your barley, wheat, rye, etc.
But in every variety and every batch, the opportunity to really bring a unique, full-flavored beer or cider to life lives nowhere else but in the flavor.
Start by experimenting and never stop. Play with creative recipes and flavor combinations, for this is how you'll find what brew creations really jive and will impress your current consumer base and attract new consumers.
Let's Talk All-Natural Beer and Cider Extracts: The Possibilities are Practically Limitless
Beer and cider connoisseurs crave a refreshing and great tasting beverage that will go down smooth and completely satisfy their thirst.

Creating a new flavor or giving new life to one of your much-loved and novel beers or ciders all hinges on carefully curated flavors that are made from high-quality, all-natural flavor sources.

What flavor profile do you want to achieve?
Crisp and Clean
It's hard to go wrong with a crisp and clean beverage, as they appeal to both the connoisseur and novice drinkers – offering an inviting drink to refresh and impress the palate.

Whether creating a specialty craft beer or delicately balanced cider, finding that distinct flavor can either start with an established approach – like a juicy blueberry extract for beer – or venture into a more audacious area, such as that offered by the underutilized but incredibly delicious peach or papaya flavoring.

Either methodology provides an excellent place to begin brewing a beverage that's raved about market-wide.

Dark and Smoky
For those who have been around the brewing block, you know that being able to venture into more distinct flavor options is no small feat.

That's why perfecting a dark and smoky brew or cider begins with a distinctive flavor profile, such as those offered by a savory flavor, or even a decadent hazelnut extract for beer – if you're feeling extra saucy.

Either approach will let your consumer base know that you are no novice drink maker; you are an authority of fine and unique flavorings.
Nutty
Being able to take distinct flavorings and imbed them into your existing brew or cider requires a deft hand and refined palate.

Have you thought about a peanut butter extract for beer or pecan extract for beer? These flavors provide the opportunity to push flavor limits, offering something both distinct and wholly original.

These nutty extracts offer a buttery sweetness to your beverage that will set you apart from the competition while expanding the very definition of how your consumers view beers and ciders.
Citrus
While citrus flavorings are not brand new to the brew game, they are staples that customers clamor for.

The refreshingly sweet orange extract for beer will amplify your brew to a new flavor echelon, while other fruit extracts for beer – like a lemon or lime – find that delicate balance of tart and tangy to kick consumers' in their taste buds, in the best way possible.
Seasonal
The beauty of a seasonal option is the sheer limitlessness available to the craft brew maker or cider extraordinaire.

Whether you opt to:
You truly are only limited by your imagination and willingness to experiment.
An All-Natural Beer & Cider Flavoring Partner: Learn About Bickford's Specialty in Beer and Cider Flavors and Extracts
Our team at Bickford Flavors is ready to help you achieve full-flavored tastes that mean big business.

We understand the craft brewing and cider industries and partner with home brewers and established small- and large-scale craft breweries and cideries alike to help successfully create beers and ciders that boast true originality by way of flavor.

Additionally, we work hard to create flavors for current market demands and your specific labeling needs – such as certified kosher, low-protein, low-carbohydrate, gluten free, and more.

Above all, with over a century of experience, we stand by tradition and are dedicated to providing you with the best flavorings, personal service, and value.

Want to learn more about partnering with Bickford to create unique, custom flavors that will help your brand and beverages stand out among the competition?

Learn More About our TTB-Approved Flavors | Learn More About Creating Custom Flavors



Resources
1 Beverage Daily. Craft brewers are facing new realities. Accessed October 20, 2020. https://www.beveragedaily.com/Article/2020/04/15/US-craft-beer-grew-4-in-2019-but-faces-difficult-2020-with coronavirus#:~:text=In%202019%2C%20there%20were%208%2C275,brewery%20openings%20and%20294%20closings.