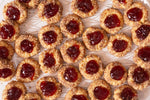 When you're trying to find that perfect holiday cookie recipe – or perfect cookie flavor – it can certainly seem like quite a baking adventure.

From unique ingredients to the highest quality flavorings and extracts, balancing and blending all the necessary components is akin to assembling a complex equation: every element needs to be measured in order for the final product to shine.

If you're an at-home baker, small-batch maker, large manufacturer – or any baker in between – we know you will set out to create truly delectable cookies this holiday season.

As flavor experts, our little piece of advice is this: pick one specific flavor to focus on so your cookies taste purposefully made and are bite after bite full of flavor bliss.
May we suggest focusing on pure vanilla?
Take into consideration the humble vanilla bean. So complex, yet so simple; this classic and beloved taste has been around for decades, and it still never gets old.

Finding a way to take the base of vanilla and use it to construct a cookie recipe that receives resounding wows from your family or consumers is easier to do when using a premium vanilla flavoring.

Before we dive into healthy, keto, and vegan Christmas cookie ideas, it's important to take a look at and understand the differences in vanilla flavoring options and how some stand above others.

Using the right flavoring method is key to creating that masterful baked good that will have both your current and potential consumers lining up for more.
Pure Vanilla Extract vs. Vanilla Flavor
Most of the vanilla flavorings you find sold in stores and to manufacturers are actually imitation or artificial flavorings.

They aren't created with real vanilla beans, but, instead, are produced from the by-products of pulp or other wood products.

Pure vanilla extract, by contrast, is the real essence of the vanilla pod, which is extracted using alcohol and provides a much deeper and robust flavor.
In order to be considered pure vanilla extract, it must contain vanilla beans, water, and alcohol.
Per the FDA's definition of "vanilla extract," it must contain at least 35% alcohol by volume and at least 100 grams of vanilla beans per liter.
Vanilla flavor achieves its vanilla-like flavor from vanillin, a naturally occurring chemical compound in real vanilla beans. That same vanillin flavor can be made without any real vanilla beans, so it's much more affordable – yet nowhere near the quality of pure vanilla extract.

With this in mind, let us introduce you to some of our favorite keto and vegan Christmas cookie recipe ideas that utilize our premium, naturally sourced pure vanilla extract, make it a star flavor, and help you turn out devour-worthy cookies this season:

Vegan Christmas Cookies that Showcase Vanilla
Snowball Cookies with Toasted Pecans
Snowball Cookies are a holiday treat with a variety of names.

Sometimes referred to as Mexican Wedding Cookies, Sandies, or Pecan Melt-aways, these delicate treats combine real vanilla extract with pecans and other basic ingredients to achieve a one-of-a-kind cookie experience.

While there are subtle differences between some of these cookies, this buttery shortbread is filled with finely chopped nuts and rolled with powdered sugar to finish.
Vegan Sugar Cut-Outs
Finding a traditional sugar cookie is essential to achieving the appropriate level of holiday spirit.

With real vanilla extract and unlimited imagination, you can elevate this recipe to new heights while wowing your consumers with all varieties of decorative designs.
Keto Christmas Cookie Recipes that Use Vanilla
Low Carb Cream Cheese Cookies
These low carb holiday treats only require a few steps to make, but they will impress everyone who tries them with their depth of flavor and complexity.
The lightly sweet cookie provides wonderful overtones of pure vanilla and golden-brown edges from the cream cheese base. One thing is for certain: this recipe never disappoints.
Keto Peanut Butter Cup Cookies
Successfully impress those chocolate peanut butter cookie fans with what could be one of the best keto Christmas cookie recipes ever.
From the tender cookie crust to the fabulous chocolate ganache filling, this cookie recipe incorporates velvety peanut butter, coconut, almond, and – of course – highlights pure vanilla, to achieve a unique Christmas treat.
Healthy Christmas Cookies with Incredible Vanilla Flavoring
Oatmeal-Peanut Butter Cookies with Dates
This holiday cookie combines oatmeal and dates to provide a comforting cookie experience with none of the guilt.
The way in which the sweetness of the dates interacts with the complexity of pure vanilla will have your consumers licking their lips as they come back for seconds.
Cranberry-Almond Thumbprint Cookies
The thumbprint cookie is perhaps the quintessential Christmas treat, and this cookie takes those nostalgic vibes and provides a healthy alternative.
The tartness of the cranberry combined with the essence of almond and pure vanilla is so delicious that anyone who gets the opportunity to taste them won't even know that they are a healthy Christmas cookie option.
Add True Taste & Aroma to Your Holiday Cookies and Baked Goods with Bickford's Premium Pure Vanilla Extract
Creating unique and distinctive holiday treats starts with using the highest quality flavorings and extracts.

With Bickford's pure vanilla extract, you will be flavoring with a true-to-source extract, and your cookies and other baked goods will never receive imitation or synthetic derivatives.

We know vanilla is a tried and true classic, so we stopped at nothing to ensure our pure vanilla extract was of the highest quality and boasted incredible taste and aroma.

Our pure vanilla extract is:
All-natural
Certified Kosher
Derived from high-quality Madagascar vanilla beans
Free of any added sugar or salt
Only 35% alcohol by volume
Looking for bulk vanilla extract quantities? We've got those, too.

Shop today: